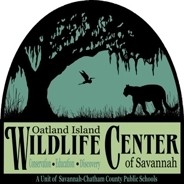 Looking for something wild to do in Savannah? How about a visit to the Oatland Island Wildlife Center?
The Oatland Island Wildlife Center of Savannah features 175 acres of maritime forest, freshwater wetlands, and salt marsh habitat, crisscrossed by a 2 mile-long "Native Animal Nature Trail" that affords you the opportunity to view over 60 species of indigenous, North American animals, many of which are considered endangered.
At Oatland Island Wildlife Center, you can visit:
The Main Building: At the Oatland Island Wildlife Center's main building, you can observe and learn about numerous species indigenous to the area, including reptiles and amphibians like king snakes, tree frogs, and box turtles, as well as marsupials and mammals like the Virginia opossum, flying squirrels, and nine-banded armadillos.
The Wolf Wilderness: At the Oatland Island Wildlife Center's Wolf Wilderness, you can walk the trail to learn about wolves and their behavior before visiting a pack of tame gray wolves. You may also spot armadillos, peregrine falcons, and various snakes.
The Alligator Wetlands: Several young alligators call a 10,000-square-foot aviary at Oatland Island Wildlife Center their home. Step out onto the viewing walkway above the alligators to observe and learn about these magnificent, often misunderstood animals. You may also catch sight of some Florida sandhill cranes, ibis, and herons.
The Pollination Station: Bees and other pollinators play an important, if often invisible, role in all of our lives. Learn about this critical part of our own habitat at the Oatland Island Wildlife Center's bee exhibit. You will also be able to view a gopher tortoise burrow!
The Predators of Georgia: Misunderstood, often hunted to the point of collapse, predators are an important part of our world. Visit the Oatland Island Wildlife Center's big predators and learn about their place in our world: cougars, bobcats, and foxes.
Birds of Prey: See hawks and owls native to Georgia, bald eagles and more at the Birds of Prey display at the Oatland Island Wildlife Center. Rescued with injuries, these birds are not able to return to the wild yet they are provided a good home at the center and there is much we can learn from them.
The Georgia Farm: After all the wild animals, it's time to learn about the important part domesticated animals play in our lives. Oatland Island Wildlife Center's petting zoo is made up of animals common to the Georgia farm: cows, pigs, chickens, and donkeys.
Come visit, learn from, and make new animal friends at the Oatland Island Wildlife Center!
Oatland Island Wildlife Center of Savannah
711 Sandtown Road
Savannah, GA 31410
Open daily 10am – 4pm
www.oatlandisland.org
Savannah Lodging
McMillan Inn is the perfect answer to your Savannah vacation lodging question. When you stay at McMillan Inn in Savannah's Historic District, you're giving yourself an opulent and centrally located homebase for your Savannah getaway. All of Savannah is just outside your door when you stay with us, while elegance, value, and Victorian charm are at your fingertips.