It's January first, 2014: you survived 2013 and the celebrations of last evening. Now you're looking to start the new year off right – but how?
Look no further. I have got the perfect idea for you: throw yourself in the freezing Atlantic.
No, I'm not trying to be a wiseacre. I'm talking about taking the annual Tybee Polar Plunge on Tybee Island!
Started out as a lark by some friends 14 years ago, the Tybee Polar Plunge has since become a big, big event, even setting a world record in 2012 for the largest ever gathering of people wearing swim caps. The 2014 event – the 14th annual, natch – takes place at the Tybee Island Pier and Pavilion at noon on New Year's Day, in Tybee, GA.
And it's not just a leap into ice cold salt water – it's also an opportunity to participate in the "Gang of Goofs" contest and parade. You and two or more of your friends or family are encouraged to dress like complete loons in your strangest gear for laughs and great prizes.
The first place team will receive the coveted "Gang of Goofs" trophy engraved with their team name and displayed at a location of their choice for an entire year. The "Gang of Goofs" parade begins at 11am and the winners will be announced following the Polar Plunge.
Registration is required for you to be an official part of the Tybee Polar Plunge and to enter the "Gang of Goofs" contest.
Go ahead: take the Tybee Plunge and start your new year off with an experience that is *guaranteed* to give you a pair of wide opened eyes and an expression that says:
WOW – THAT WAS REFRESHING!
The Tybee Polar Plunge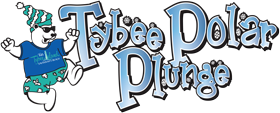 January 1st, 2014, 12pm
Tybee Island Pier and Pavilion
For more information and registration forms please visit: tybeepolarplunge.com