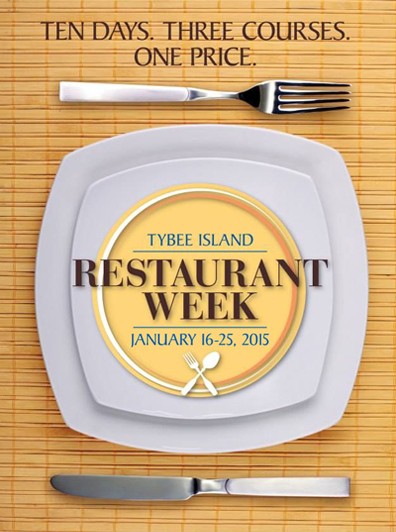 Tybee Island is known for its top-rated restaurants – now you can sample some of the island's finest offerings for only $25 to $30 per person during the 2nd annual Tybee Island Restaurant Week!
Tybee Island's famous and popular restaurants offer a diverse range of high cuisine fit to please a wide range of discriminating tastes. Tybee Island Restaurant Week gives you the opportunity to sample from this delicious array of fine dining establishments at a fraction of what you would normally pay.
Throughout Tybee Island Restaurant Week, participating restaurants create special, multi-course, prix fixe dinner menus, allowing diners to choose appetizers, entrees, and desserts from the proffered options. Your beverage, tax, and tip are not included in the prix fixe meal price, so be sure to plan accordingly.
There are no tickets to buy to participate in Tybee Island Restaurant Week, no passes or vouchers to carry with you. Just show up at as many participating restaurants as you want – or stick to one or two favorites – throughout the week. If you or someone with you isn't interested in the Tybee Island Restaurant Week prix fixe menu, you can order off the regular menu at normal price without issue. Enjoy old favorites or discover new ones – it's that simple!
Tybee Island Restaurant Week doesn't even require reservations – but some of the restaurants might – and they're definitely recommended. Tybee Island Restaurant Week is no secret and the value and quality being offered doesn't exactly leave a lot of tables open!
The list of participating restaurants for the 2015 Tybee Island Restaurant Week has yet to be announced but you can bet, like last year's inaugural event, it will be a stunning, who's-who of the island's best: A.J.'s, Coco's Sunset Grille, the Crab Shack, Fannies, Huc-a-poo's, North Beach Bar and Grill, the Rock House, Spanky's, Stingray's, Sundae Café, and the Tybee Island Social Club.
Tybee Island Restaurant Week 2015
January 16 – 25, 2015
Keep an eye on tybeerestaurantweek.com for a list of participating restaurants and more updates as we get closer to the event!
Tybee Island Restaurant Week Lodging
Tybee Island's top-rated restaurants, shops, nightclubs, miles of public beaches, and more are less than 30 minutes away from McMillan Inn in Savannah's historic district. Whether you're here for Tybee Island Restaurant Week or just to soak up the timeless beauty, rich culture, and fascinating history a Savannah vacation can impart, we look forward to sharing the incomparably lush comforts of our accommodations with you!