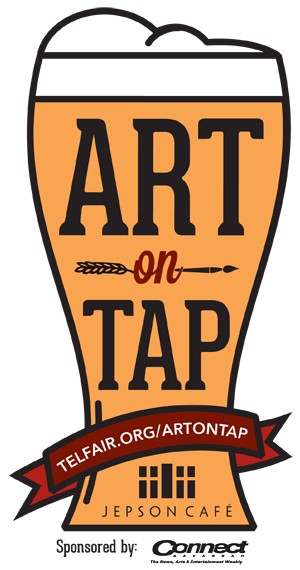 Come enjoy Savannah's Jepson Center like you've never seen it, on the evening of September 18th, when it is transformed into a coffeehouse for Art On Tap – The Jepson Unplugged!
Just like there's always something happening in Savannah, there's always something worth seeing at the Telfair Museum's Jepson Center – but you don't always expect to find craft beer, wine, and delicious food at a contemporary art museum!
The Jepson Center's popular Art On Tap series, held the third Thursday of every month, changes all that by mingling hand-crafted beers and wines with art in a Savannah-style happy hour – and you're invited!
Each Art On Tap event at the Jepson Center features a different brewery, winery selection, light appetizers, and theme, with Jepson Center and vendor staff on hand to answer any questions you may have about the evening's beverages, food, or focus. As an added plus, the museum remains open throughout the event and admission is granted to attendees as part of their Art On Tap ticket price.
Art On Tap: Jepson Unplugged, scheduled for Friday, September 18, from 8pm to 10pm, is a throw back to the 1990's coffeehouse scene. Themed to tie-in with the current "Come As You Are" exhibit, guests will be treated to acoustic versions of classic 90s songs from favorite bands like Nirvana and the Pixies as rendered by Coy Campbell of Nightingale News.
The Telfair Museum, which opened in the 1880's, is the oldest public art museum in Savannah and all of the southeastern United States. The Telfair Museum campus includes three architecturally significant buildings, providing a history of educational programming, community outreach, and exciting exhibitions, with a permanent collection containing over 4,000 different artworks from all over the world. Part of the Telfair campus, the Jepson Center has more than 7,500 square feet of gallery space devoted to contemporary art.
Art On Tap at the Jepson Center
The 3rd Thursday of Every Month
The Jepson Unplugged – Sept 18, 2015 – 8pm to 10pm
Masquerade in the Mansion – October 30, 2015 – 9pm to 1am
For more information and tickets, be sure to visit: www.telfair.org
Jepson Center Lodging
No matter what brings you here, choosing McMillan Inn is the best way to make sure your Savannah getaway is picture perfect! The quality of your homebase can make or break a vacation – and historic McMillan Inn is your key to elegance, value, and Victorian charm. Plus we're conveniently located within Savannah's Landmark Historic District, within walking distance of many of Savannah's biggest attractions.