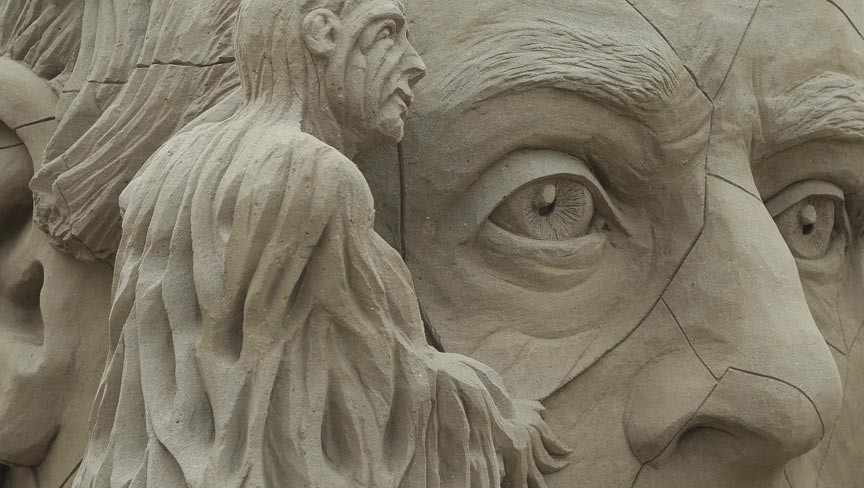 The SCAD Sand Arts Festival is the annual sand sculpture contest from the Savannah College of Art and Design that brings together outstanding, temporary displays of three-dimensional art and a day at Tybee Island's lovely North Beach – this year on May 6th, 10am to 5pm!
Any child who has spent time on a beach has likely packed a little damp sand together for a crude sand castle creation or two but there's a world of difference between what little Timmy creates on the beach and the fantastic creations you'll have the opportunity to watch rise from the sand during the SCAD (Savannah College of Art and Design) Sand Arts Festival!
The contest, which includes not just SCAD students but also SCAD alumni, and staff, as well as local high school students, is eye-opening for anyone who has never seen just how intricate and fine a creation that a talented sand-sculptor (or team of sand-sculptors, as is often the case) can create using nothing more than beach sand.
Once completed, the sand sculptures are scrutinized by a panel of qualified judges who carefully select from them three winners in each of the main categories:
Best Sand Castle – must be architectural in design. These works tend to be the biggest of the contest with lots of detail.
Best Sand Sculpture – must be a minimum of three feet in height and must resolve all of the way around.
Best Sand Relief – similar to drawings or carvings, these works tend to contain a great amount of detail.
Best Wind Sculpture – the only entry in the contest not sand based and allowed to be pre-built and brought to the beach. Wind Sculptures are judged primarily on their creative interaction with the wind.
The classic beach structure and the sand castle category feature pieces resembling architecture. The pieces are amongst the larger pieces and possess a great amount of detail. The popular sand sculpture category features sculptures a minimum of three feet high and carved full round. The subject of sand sculptures is up to entrants, so it is expected to see some very imaginative works.
There are a number of special categories as well, including: the SCAD Spirit Award, the Most Ambitious Award, Best SCAD Castles, Gray's Reef Best Underwater Creature, and Alumni Choice.
So come on out to Tybee Island's picturesque North Beach – great place to be, contest or no – and spend the day in the sun and the waves while amazing and awe-insipring forms rise up out of the sand around you. Just be sure to get a good look before the tide erases it all!
2016 SCAD Sand Arts Festival
May 6th – 10am to 5pm
North Beach, near Tybee Lighthouse
30 Meddin Drive, Tybee Island, GA
Official Site: www.scad.edu
SCAD Sand Arts Festival Lodging
McMillan Inn is located in the heart of Savannah's historic district and less than 30 minutes away from Tybee Island. Experience the timeless beauty, rich culture, and fascinating history of a Savannah vacation while lodging in a classic Savannah Inn that embodies the same!