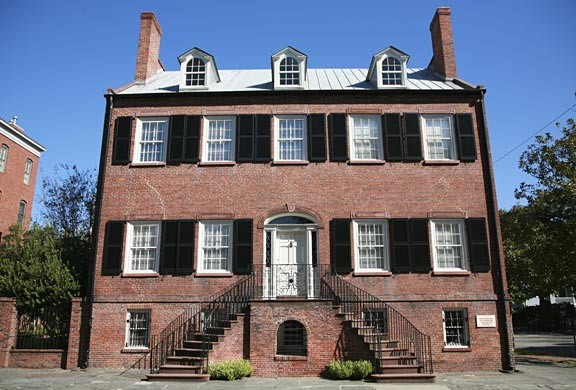 Savannah's stately Isaiah Davenport House Museum offers visitors a chance to travel back in time to the America of the 1820's with its authentically restored exterior, rooms, and courtyard garden.
Through the years, the Isaiah Davenport House has played a role as a grand family home in the better part of town as well as that of a run-down boarding house in the seedy part of town. Built by Master Carpenter Isaiah Davenport in 1820, the Davenport House is in the Federal-style, with a simple yet elegant exterior of brownstone and brick and classic double-entry stairway.
The Davenport House served as home to two families – the Davenports and the Baynards – then a boarding house until the 1950's when, in such a state of disrepair, the decision had to be made: demolition … or resurrection?
Luckily, a group of concerned citizens decided this gem was too precious to lose and came together to purchase and restore the stately old mansion and – a decision that proved to be the first of many for the then newly formed Historic Savannah Foundation.
Initially using the Davenport House as its base, the Historic Savannah Foundation sensed the home's potential to further their cause and so turned the first floor – and eventually the second and third – into a public museum!
Visitors touring the Davenport House Museum are instantly transported back to an earlier, simpler time. Original and restored home furnishings, decorations, even personal silhouettes of the Davenport family, fill the halls and rooms, making it seem as if family members could come bursting through a door at any moment.
Most visitors are taken with the incredible oval, hanging staircase that seems to just float in the hall, spiraling gracefully up to the other floors. Despite details like this and the size of the home, the decorations throughout are actually rather plain and spartan. This is because, unlike many restored historic homes, the Davenport House is an example not of one of Savannah's richest, 19th century families but that of the upper-middle class.
The Davenport House Museum presents various programs and events throughout the year and also offers special tours, programs, and living history events. Be sure to visit the website to see what is on their event calendar during your Savannah getaway!
The Isaiah Davenport House Museum
324 E. State Street, Savannah, GA
Monday – Saturday, 10am to 5pm
Sunday, 1pm to 5pm
Tickets and more details: www.davenporthousemuseum.org
Davenport House Museum Lodging
Stay at historic McMillan Inn during your Savannah vacation for a seamless merging of Victorian elegance with modern luxury – and all for your comfort! Located just two blocks from Forsyth Park, McMillan Inn is just a short walk or drive from the Davenport House Museum and all the other shops, museums, galleries, and fine dining in the Historic Landmark District of Savannah. Welcome!