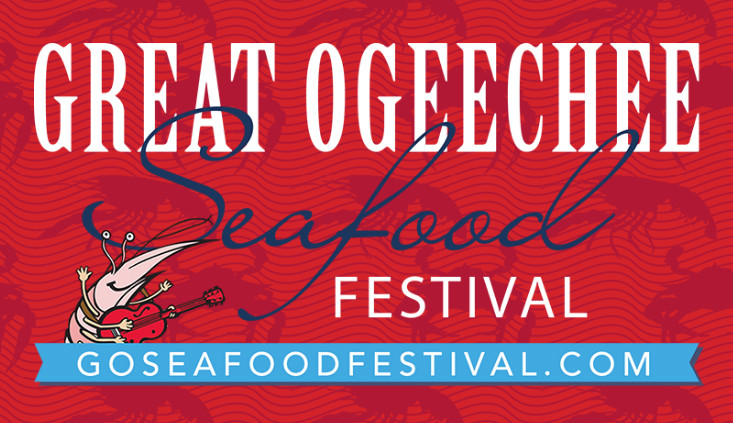 Attention all seafood lovers: the 2016 Great Ogeechee Seafood Festival is almost here! October 14th through the 16th, 2016 at J.F. Gregory Park in Richmond Hill, GA.
The Great Ogeechee Seafood Festival is a three-day celebration of fresh seafood, toe-tapping live tunes, and the community of Richmond Hill. A popular tradition for 17 years, the festival now routinely attracts 35,000 attendees to Richmond Hill. And no wonder! They know they'll be treated to some of the best coastal seafood around!
We're talking about fresh seafood favorites from some of the area's best chefs and kitchens. Low country boil, shrimp and grits, fried oysters, crab cakes, lobster rolls, crab soup, shrimp gumbo, and lots more!
It's not just seafood, either. Great Ogeechee Seafood Festival also includes things like Cajun fried catfish, gyros, bourbon chicken, hamburgers, hot dogs, deep-fried cheese balls, pulled pork, and sweet tea. One of the annual highlights you DO NOT want to miss is the kettle corn and peach cobbler cooked by the Boy Scouts. So good!
Beyond the food, which definitely takes center stage, are the arts and crafts booths. Over 50 such booths will be on hand, offering hand-crafted, one-of-a-kind items as well as those showcasing wares from numerous local businesses. Take this opportunity to find the perfect, unique gift for that special someone on your Christmas list!
Finally, the Great Ogeechee Seafood Festival draws top-tier entertainers as well. This year's headliner is country music singer and songwriter Jerrod Niemann! Other's included in this year's lineup include Jordan Fisher and The Voice's Adam Wakefield!
2016 Great Ogeechee Seafood Festival Lineup
Oct 14
The Bud Light DJ's will keep everyone entertained on Friday and Saturday
6pm – 7pm: 3rd ID Rock Band
7pm – 8pm: Esteban's Hat
8pm – 9:15pm: Guns 4 Hire
9pm – 11pm: Georgia Fire Band
Oct 15
Big Al Mack will DJ throughout the evening on Saturday
10:30am – 11:30: Richmond Hill Middle School Band
11:30am – 12pm: Off Broadway
12pm – 12:30pm: Line Dance Fever
12:30pm – 1:30pm: Kelly & Company / Legacy Irish Dance Academy
1:30pm – 2pm: Off Broadway
2pm – 3pm: Dancing Unlimited
3pm – 4pm: Life Moves Dance Studio
5:15pm – 6:30pm: Riptide
6:45pm – 7pm: Welcome Ceremony
7pm – 7:45pm: Jordan Fisher
8pm The Voice's Adam Wakefield
9:30pm Jerrod Niemann
10:45pm – 11pm: Fireworks
Oct 16
12:45pm – 1:45pm: At Sundown
2:00pm – 3pm: Ember City
3:15pm – 4:15pm: First Baptist Church Worship Team
Did I forget to mention that the festival also includes carnival rides? Don't miss it!
Great Ogeechee Seafood Festival
October 14th through the 16th, 2016
Fri, 5pm to 11pm | Sat, 10am to 11pm | Sun, 11am to 5pm
J.F. Gregory Park – 520 Cedar Street, Richmond Hill, GA 31324
For more information, visit goseafoodfestival.com
Great Ogeechee Seafood Festival Lodging
Richmond Hill, GA is less than half-an-hour's drive from Savannah and McMillan Inn! Our opulent Savannah B&B offers true, Southern hospitality through luxurious amenities, personalized services, and elegant, historic surroundings. Let us transport you to a more refined era replete with modern comforts. McMillan Inn is conveniently located downtown in Savannah's Landmark Historic District.