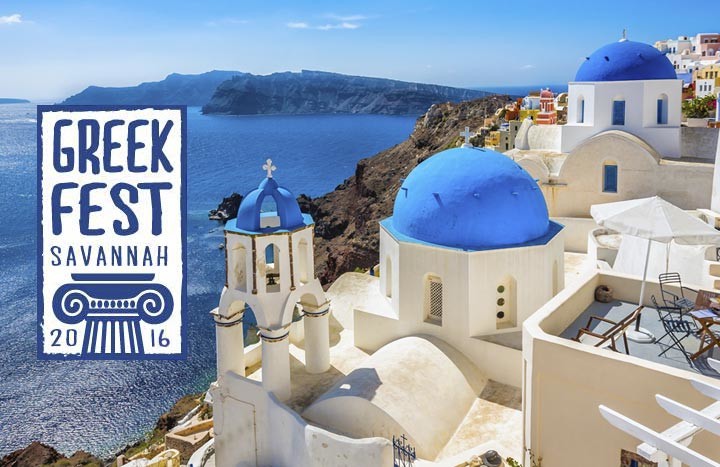 The 66th annual Savannah Greek Festival, scheduled for October 6th, 7th, and 8th, 2016 promises delicious Greek food, dancing, and live music. There will also be a marketplace and Greek church tours.
Savannah Greek Festival is a three-day celebration of Greek food, music, and heritage that annually draws thousands of people. They come for the music, they come for the culture – oh, let's face it: mostly, they come for the food!
Who can blame them? Spanakopita, dolmades, baklava, pastitsio, lamb, gyros and more! The full menu for Savannah Greek Fest is enough to convince anyone with taste buds to attend – yum!
Beyond the food, live Greek music will be provided all day, every day in the Hellenic Center gymnasium, by The Grecian Echoes. Three dance troupes will also be on hand throughout the festival: Zoe, the adult dance troupe, Goya, the teenage troupe, and Ta Pethai, a children's dance troupe.
2016 Savannah Greek Festival Dance Troupe Schedule
Thursday
6pm – Goya
6:30pm – Ta Pethia
7pm – Zoe
Friday
6pm – Ta Pethia
6:30pm – Zoe
7pm – Goya
8pm – Zoe
Saturday
12:30pm – Zoe
2:30pm – Zoe
4pm – Ta Pethia
4:30pm – Zoe
5pm – Goya
6pm – Ta Pethia
6:30pm – Zoe
7pm – Goya
The annual Agora – or Greek Market – held at the entrance of the Hellenic Center, is a big part of Greek Fest, too. Here you can browse through many hard to find Greek items. Greek coffee, imported Greek wine and beer, and many Greek foods that cannot be found in your average supermarket. Things like babaganoush, taramosalata, pepperoncini, olives, olive oil, grape leaves, etc. Not just food, the Greek Market also offers clothing, jewelry, religious items, cookbooks, and more.
Attendees to the Savannah Greek Festival should also take the opportunity to enjoy a guided tour of the recently renovated Eastern Orthodox Christian Church. The decor, architecture, and artifacts seen on the tour are very unique and worth your time.
2016 Savannah Greek Festival Church Tours
Thursday & Friday – 4pm, 6pm, and 8pm
Saturday – 1pm, 3pm, 5:30pm, and 8pm.
Savannah Greek Fest is a fun and delicious time for everyone – plus you'll walk away with a greater appreciation of Greek culture and all it has to offer. Don't miss out!
Savannah Greek Festival
October 6-7-8, 2016 – 11am to 9pm
Savannah Hellenic Center
14 West Anderson Street, Savannah, GA 31401
www.savannahgreekfest.com
Savannah Greek Festival Lodging
Our Savannah B&B's convenient location in Savannah's historic district has you less than a mile from the Hellenic Center and Greek Fest 2016. You could walk there – or to just about any major Savannah attraction – from our inn in less than a quarter hour! Our 1888, Italianate Revival Inn has twelve rooms and a Carriage House to choose from. Stay at McMillan Inn for lush appointments that will transport you to comfort and relaxation.