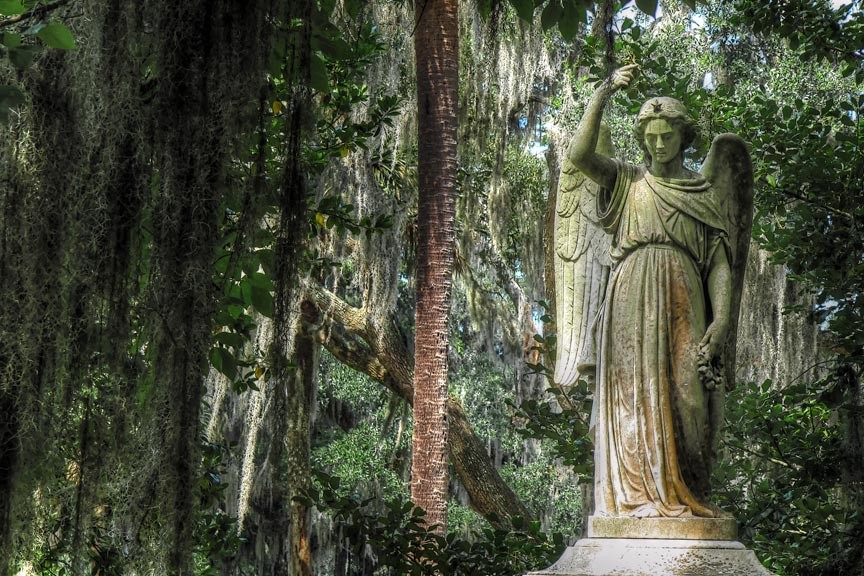 Bonaventure Cemetery is consistently rated among the top 5 attractions in Savannah and is considered one of the most beautiful cemeteries in the world. Come discover for yourself what makes this 171 year old cemetery such a popular destination.
Oak trees draped with Spanish moss shade Gothic angels, stone obelisks, and clusters of patinated grave markers. Bonaventure Cemetery began as a small, family plot in the late 1700's but has grown well beyond its humble beginnings.
"Boneventure" is French for "good fortune" and seems like an ironic name for a graveyard.  This name makes more sense when you learn that it was originally applied to a plantation, not a cemetery. The Tattnall family used the burial plot for their family until they sold the Bonaventure plantation in 1846.
The new owner expanded the grounds by 70 acres and took them public as the Evergreen Cemetery of Bonaventure. The City of Savannah purchased the land 1907 and shortened the name to Bonaventure Cemetery.
The cemetery has long been a popular destination but traffic surged after the publication of John Berendt's "Midnight in the Garden of Good and Evil" in 1994. Both the cover of this New York Times Bestseller and the poster for the popular film adaptation feature images of Bonaventure Cemetery's "Bird Girl" statue.
The response was so great that the city had to move the "Bird Girl" to the Telfair Museum of Art for safekeeping! Don't fret, though: there are still plenty of other reasons to visit Bonaventure Cemetery!
The graves of Johnny Mercer and Gracie Watson are popular, as are the Lawton plot's fantastic marble carvings. Poet Conrad Aiken is also here, along with Georgia's first governor, Edward Telfair. Bonaventure also contains more than 500 Confederate grave markers.
Beyond the plots, Bonaventure's 100+ acres of lush foliage, meandering paths, and gothic statuary are truly captivating. Bonaventure cemetery belongs near the top of everyone's must-see list.
Bonaventure Cemetery
330 Bonaventure Rd, Thunderbolt, GA
Hours: 10am to 5pm
Bonaventure Cemetery is only three miles from the downtown Savannah and there is no admission charge. The Bonaventure Historical Society offers free guided tours of the cemetery one weekend a month. Be sure to visit www.bonaventurehistorical.org for more information.
Savannah Lodging
McMillan Inn is the perfect place to stay for a trip exploring Savannah. The convenient location of our historic, Savannah B&B puts the best of the city at your fingertips. Meanwhile the plush amenities of our seven rooms will have you wondering why on earth you'd ever stay anywhere else! We look forward to sharing the beauty of Savannah's past and present with you! Book your stay at McMillan Inn today!