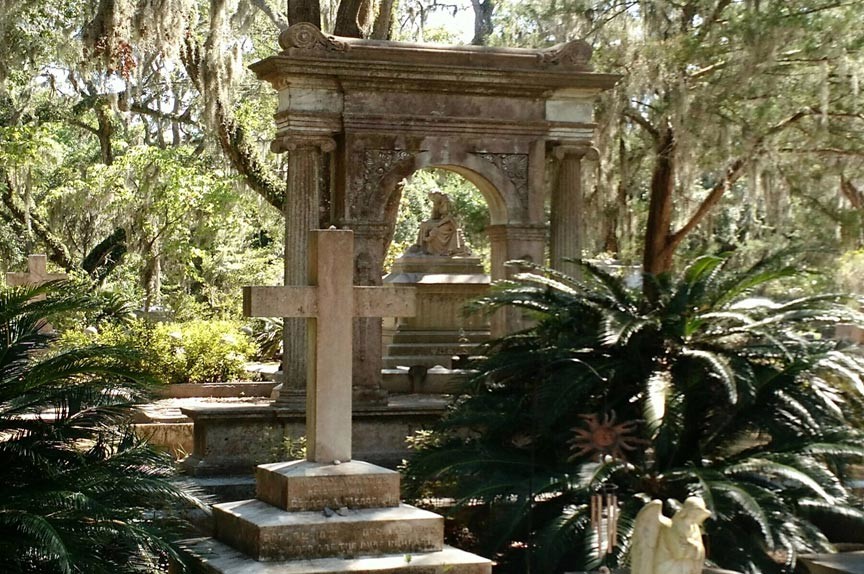 You can visit Savannah without seeing Bonaventure Cemetery – but you'll probably regret it! The cemetery is one of the city's most iconic and famous features.
Bonaventure Cemetery most recently gained national fame for its part in the book and film, Midnight in the Garden of Good and Evil. In Savannah, however, it is always a star attraction – and with good reason!
Originally known as Evergreen, the cemetery began as a small, family plot on the Bonaventure plantation of the late 1700's. As the decades passed, the property changed hands and Evergreen Cemetery was eventually purchased by the City of Savannah. The cemetery was renamed "Bonaventure" in 1907.
Bonaventure Cemetery is located on a bluff overlooking the Wilmington River. The cemetery grounds are vast, encompassing almost 160 acres. If you're thinking that a graveyard this big and this old must have a few famous names in it, you're correct. Bonaventure is the final resting place of singer/songwriter Johnny Mercer, poet Conrad Aiken, and Edward Telfair, Georgia's first governor. Bonaventure also contains more than 500 Confederate graves.
The main attraction to the cemetery, however, is the cemetery, itself. Lush vegetation and massive Live Oaks draped with Spanish moss cast deep shadows on the hauntingly beautiful tombs and statuary. Bonaventure is large enough to tour in your car but you'll be getting out for lots of closer looks. The cemetery is so big that it would be easy to wander through for hours.
Many local companies offer tours of Bonaventure Cemetery that will help you to get the most out of your visit. After hour tours can be especially spooky and fun!
Bonaventure Cemetery Tours
Bonaventure Cemetery Tours – One of the more popular companies offering 2+ hours tours of the historic cemetery. Visit their website.
Savannah Bonaventure Dash Tours – Walking tours of Bonaventure with round-trip transportation. Find them at dashtours.net
Shannon Scott Offers a variety of colorful tours, including some spooky, after-hours tours! See his offerings online.
Bonaventure Cemetery at the Jepson Center
"Bonaventure: A Historic Cemetery in Art"
How about an art tour of Bonaventure? The Jepson Center is currently hosting an exhibition of art inspired by or connected to the cemetery. The show runs 'til September 23rd, 2018. Learn more at www.telfair.org
Bonaventure Cemetery
330 Bonaventure Rd, Thunderbolt, GA
Learn more about this iconic Savannah landmark at www.bonaventurehistorical.org.
Savannah Lodging
McMillan Inn is the perfect compliment for any visit to Savannah! Our 1888, Italianate Revival building has been lovingly restored and echoes with the footsteps of history. Yet our location in the downtown historic district puts us conveniently close to Savannah's best shops, galleries, and restaurants. Let us share the beauty of Savannah's past and present with you! Book your stay at McMillan Inn today!