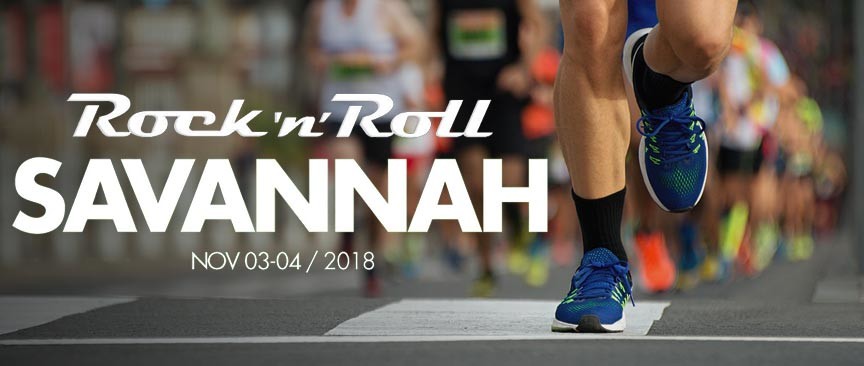 Mark your calendars for Rock n Roll Savannah 2018! November 1st and 4th will see thousands of runners and fans descend upon the Hostess City of the South for a day of great racing and music, headlined by Michael Franti & Spearhead!
The Rock n Roll Marathon series combines great runs in beautiful cities like Savannah with live bands, cheer teams, and more. Each year gets bigger and better and Rock n Roll Savannah 2018 is no exception. This year will see more music, more runner support, and more community engagement then ever before – and that's saying a lot!
Rock n Roll Savannah 2018 includes a marathon, half marathon, 5K, 1 mile, and 2 person half marathon relay. The courses are scenic and charming, running through the heart of Savannah's historic downtown, with history and southern hospitality around every corner.
Rock n Roll Savannah Music Lineup
One of the best parts of Rock n Roll Savannah is the music lineup.
This year's headliner is none other than the legendary Michael Franti & Spearhead! Michael Franti is a world-renowned musician, filmmaker, humanitarian known for his energetic live shows, political activism, and philanthropy.
But that's not all!
One of the signature aspects of the Rock n Roll marathons is live music along the race course! Live bands will perform a variety of styles, including alternative, classic rock, punk, funk, blues, and jazz.
Rock n Roll Course Entertainment includes:
Singer-Songwriter, Mike Richards
Powerhouse of the South
The Wave Slaves
Tiger Creek
and
Six City Employees! (yeah!)
The course will also feature a variety of cheer teams and dance squads for some positive motivation.
Rock n Roll Savannah Health & Fitness Expo
Rock n Roll Savannah also features a free, two-day, Health & Fitness Expo that is open to the public. Each year the Expo features the latest in running technologies, fitness apparel, health, nutrition, and interactive displays.
All runners must visit the expo to pick up their race number, gear bag, and t-shirt. Thursday, November 1st: 3pm to 7pm and Friday, November 2nd, noon to 8pm. Located at the Savannah International Trade & Convention Center, Halls A and B.
Rock n Roll Savannah 2018 Schedule
Thursday, Nov 1 –
Health & Fitness Expo Day 1 – 3pm to 7pm
Friday, Nov 2 –
Health & Fitness Expo Day 2 – 12pm to 8pm
Saturday, Nov 3 –
Marathon, Half Marathon & 2-Person Half Marathon Relay – 7:30am to 3pm
Sunday, Nov 4 –
5K & 1 Mile – 1pm to 3pm
Visit www.runrocknroll.com for course maps, registration, and much more.
Rock n Roll Savannah Lodging
Rock n Roll Marathon always fills up the city with lots of visitors. If you plan to attend, now is the time to acquire your Savannah accommodations. McMillan Inn's convenient location in Savannah's downtown historic district puts you within easy distance of all the events – plus the best of the city! Book your stay at McMillan Inn today!