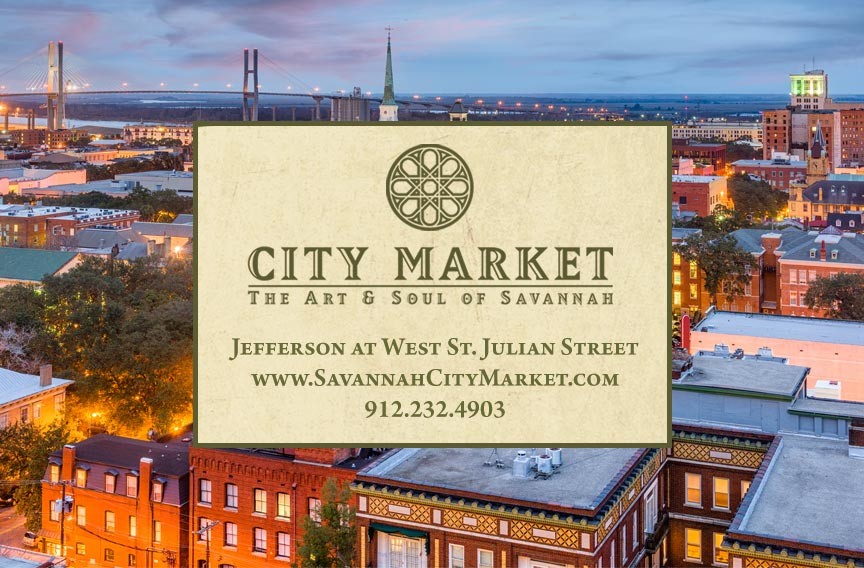 Savannah City Market is four blocks of open-air shopping, dining, art, entertainment, and history. In fact, with little exception, the property has been Savannah's central marketplace since the 1700's!
When it comes to shopping, dining, art, entertainment, and history, the city of Savannah has it all. Not every part of the city has as strong a concentration of all these things as the City Market, however. Just 2 blocks from River Street, by 1755 the spot was already a bustling hive of farmers, fishers, and tradespeople hawking their wares.
Yet Savannah City Market has long been more than just a simple center of commerce.
While 18th century Savannahians would not recognize today's City Market, they would definitely be familiar with its position as an important city social hub. So important, in fact, that even a series of devastating changes and disasters could not keep the City Market down.
The Market That Wouldn't Die
Savannah's beloved City Market burned in 1788. Undaunted, the city restored the market, only to see it burn again in 1820, less than forty years later.
The market was restored once again, torn back down shortly after the Civil War, and rebuilt yet again in 1872. This fourth iteration was of brick and the market gained ornate Romanesque arches and large circular windows. Savannah City Market finally seemed here to stay.
Yet, as Savannah passed into the 20th century, its growing population decentralized commerce and the City Market crowds began to thin. By the 1950's, the market was a rundown ghost of its former glory. The city decided to tear the old building down to make way for a multi-deck parking garage.
The spirit of Savannah's City Market was not so easily extinguished, however. The city decided to revitalize the area in the early 2000's and this included resurrecting Savannah's long-lost City Market.
Savannah City Market Today
Today, City Market is back to being an active meeting place of commerce and community. Though not the only social hub within modern Savannah's greatly expanded boundaries, it remains an important and vibrant one.
Shopping opportunities at the market include jewelry, candy, cigars, apparel, accessories, and more. Restaurants run the gamut from fine dining to pub fare and pizza by the slice.
Do you enjoy art? The City Market is home to a variety of art galleries but you might find the upstairs Art Center even more exciting. Here you can meet artists and watch them at work on their art. Fascinating!
During the day, Savannah City Market bustles with shoppers and tourists. Once the sun goes down, the market is one of Savannah's most popular nightspots. Several of the clubs here regularly host some of the best live jazz acts in the city.
The City Market square also sees a number of open air concerts, festivals, and other special events throughout the year.
Savannah City Market
219 W Bryan St, Savannah, GA 31401
Discover more with a visit to the Savannah City Market website. You can also visit the market on Facebook and Twitter.
Savannah Lodging
McMillan Inn offers stylishly distinctive accommodations in Savannah's downtown historic district. Enjoy in-room climate control, private bathrooms, complimentary WIFI, full breakfasts, and so very much more. Our downtown location puts you that much closer to most of Savannah's most popular attractions. Book your stay at McMillan Inn today!