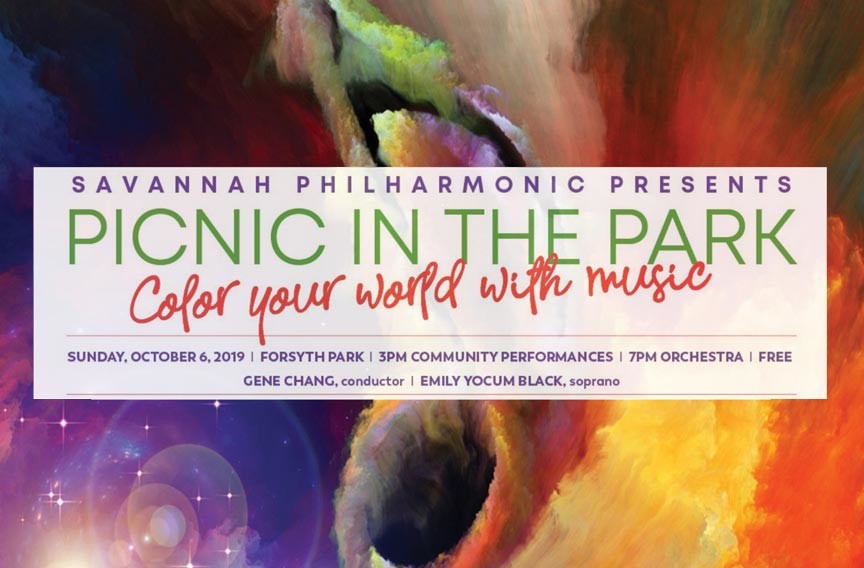 Savannah Picnic in the Park is Savannah's largest, outdoor musical event. Join the Savannah Philharmonic and others for an evening of music under the stars in Forsyth Park. Sunday October 6th, 2019.
Picnic in the Park has been a Savannah tradition for over 30 years ago, now. The event, which is free and open to the public, remains one of the city's most popular concerts with more than 18,000 people expected at this year's event.
The evening is primarily a showcase for the Savannah Philharmonic but that's not all. The show begins with an afternoon of lively area school bands and choruses, along with some local musicians.
Music at the concert includes familiar movie themes, popular classical works, and stirring patriotic pieces. Conductor Gene Chang will lead the Savannah Philharmonic, featuring soprano Emily Yocum Black.
Schools performing at this year's event include the Savannah Arts Academy Orchestra, Savannah High School, and the SCAD Honey Bees. The U.S. Army Band will also perform at Picnic in the Park 2019. They'll appear with the 3rd Infantry Division Color Guard, who bring a battalion of salute cannons along with them. Exciting!
Picnic in the Park Venue
The concert is held in historic Forsyth Park's band shell, located on the east side of the park. Attendees are encouraged to bring a picnic and arrive early. Getting a good spot during Picnic in the Park can be a real challenge for those arriving late.
Savannah Picnic in the Park includes an annual theme, which picnickers are encouraged to follow when designing their picnic spot. This themed picnic venue contest always results in many impressive and elaborate displays. The theme for 2019 is: "Color Your World with Music."
Forsyth Park is Savannah's largest downtown park, with 30 acres of green space to enjoy. The park's iconic fountain, added in 1858, may be its most recognizable and popular feature.
Best of all? Forsyth Park is an easy three-block walk from the front door of our Savannah bed and breakfast, McMillan Inn.
Picnic in the Park also includes vendors and food trucks with an array of food and drink so you needn't far going hungry at the show. This longtime Savannah tradition is a lovely opportunity to enjoy an evening of beautiful symphonic music beneath a starry southern sky. Don't miss it!
2019 Savannah Picnic in the Park Schedule
3pm to 7pm – Community performances
7pm to 9:15pm – Savannah Philharmonic, Gene Chang conducting
Learn more at the Savannah Philharmonic website. You can also read about this event on Facebook.
Savannah Lodging
As we say above, our B&B is less than ten minutes walk from the east side of Forsyth Park. Make your Savannah getaway the best it can be with accommodations at McMillan Inn. Our Savannah inn offers 12 luxurious guestrooms and a Carriage House, plus a world of top-tier amenities – all within Savannah's downtown historic district. Book your stay at McMillan Inn today!