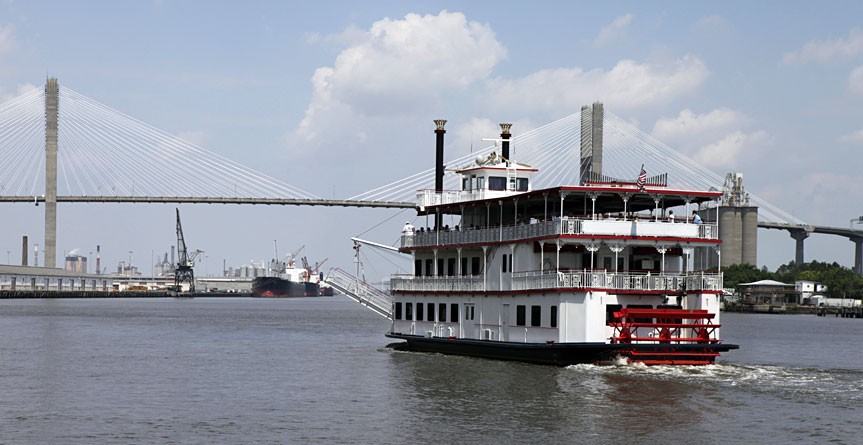 Nothing brings the rich history and lush beauty of our city to life like a Savannah riverboat tour. Set sail for a bygone era and discover the story of a river instrumental in the founding of our beautiful city.
Riverboats played a major role in the development of the US during the 1800's. Using steam power, they could navigate in shallow waters as well as against the strong currents encountered sailing upriver. Because of this, riverboats were the perfect mode of transportation for not only people but produce of the region: bales of cotton, tobacco, rice, timber, and molasses. Prior to the establishment of railroads, riverboats were the fastest method of transportation and continued to play a major role well into the early 20th century, even after the arrival of the railway.
The River Street Riverboat Company offers many different types of tours and cruises: Enjoy an evening of dinner, live entertainment, and a tour of Savannah. Relive the past on a harbor sightseeing tour. Soothe your soul with the uplifting sounds of Southern gospel music on the Gospel Dinner Cruise. Experience one of the most fascinating and tumultuous times in our country's history with the The Civil War Experience – Dinner Cruise & Fort Tour. Dance the night away during an evening of fun and romance with the Moonlight Entertainment Cruise. The Saturday lunch and Sunday brunch cruises are a great combination of sightseeing and food you'll not soon forget.
Escape the noise and confusion of the modern world: a Savannah riverboat tour will transport you to a simpler time. For more details, visit: River Street Riverboat Company at www.savannahriverboat.com
Don't Forget Lodging
Of course, you can't stay on the river forever, so the next time you are in Savannah, we hope you will come and stay with us at the comfortable and opulent McMillan Inn.