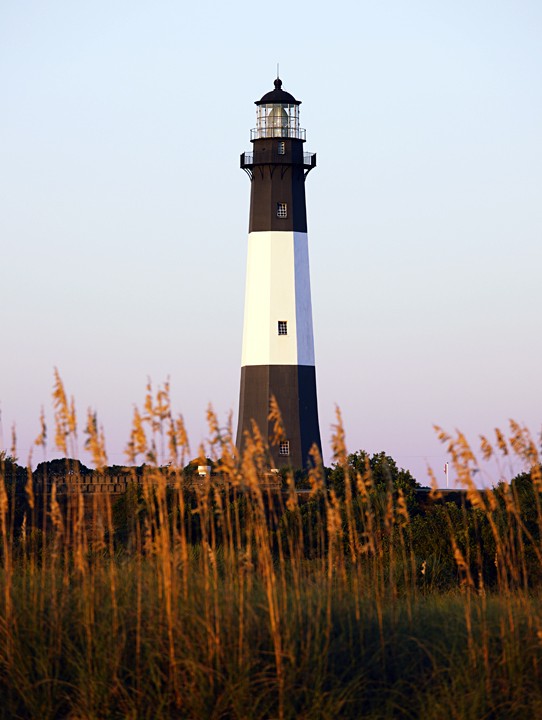 Lighthouses fascinate us and with good reason – they are iconic, historic, and reach far out over the waves to help save lives – Tybee Lighthouse is no exception.
Tybee Island Lighthouse has been an iconic part of the Georgia shoreline in one form or another since 1736, having been built when Georgia was but the 13th colony of England's holdings in the New World.
At first Tybee Island Lighthouse had no light at all and was just a 90 foot tower meant to serve as a guide on the horizon during the day. Built near the shore of the island, it wasn't too long before this early tower was destroyed by a storm and had to be rebuilt.
This time the tower was four feet taller and placed farther inland – but not far enough. Within two years this new tower had sustained enough damage from the elements for plans to begin on a newer, tougher lighthouse even farther inland.
This new tower was constructed in 1773 and featured an actual light, powered by candles made of spermaceti – a wax harvested from the skulls of sperm whales. This was the true birth of the Tybee Island Lighthouse.
As the United States came into being and Georgia became a state, Tybee Island Lighthouse shined on. It gained a Second Order Fresnel lens in 1857, which improved its range and visibility immensely but also marked it as a target during the Civil War. The lighthouse was sacked by Confederate troops in 1862. They set fire to Tybee Island Lighthouse and stole the lens, crippling the structure.
After the war, a new tower was constructed on top of the remaining sixty feet of the foundation. This time, instead of wood, metal and masonry were used. The missing, Second Order Fresnel lens was replaced with an even better, First Order Fresnel lens, and so Tybee Island Lighthouse remains to this day.
Visiting Tybee Island Lighthouse is a real treat. You can take a self-guided tour or book a Sunset Tour and enjoy the opportunity to watch the sun set from the top of Tybee Lighthouse. All proceeds go towards maintaining the lighthouse and its place in US history. Be sure to check out the Tybee Island Lighthouse museum and gift shop while you're here, too!
Tybee Island Lighthouse and Museum
30 Meddin Ave, Tybee Island GA 31328-9733
For more information, directions, Sunset Tour schedules and booking info, please visit www.tybeelighthouse.org.