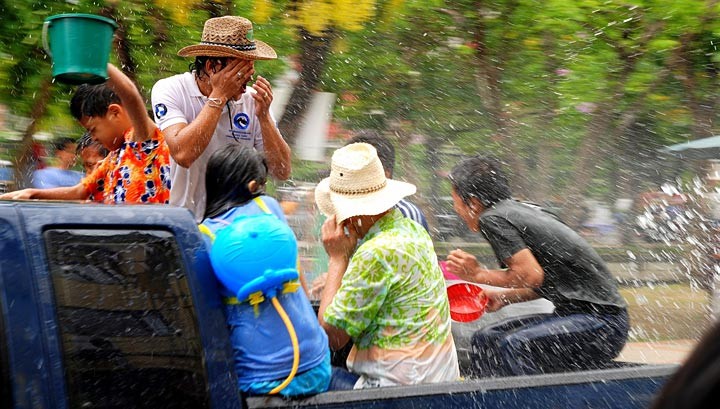 Have you ever been in a crowd and wondered what it would be like to start a massive water fight? Well, you can find out at the 2014 Tybee Island Beach Bum Parade!
Yes, you read that correctly: the annual Tybee Island Beach Bum Parade devolves (quite intentionally) into a massive water fight every year – the South's largest water fight!
Well, technically, the Tybee Island Beach Bum Parade IS a parade and, like most parades, this one starts out with floats, decorated vehicles, and groups marching along. Where this parade differs is in that, unlike most parades, these floats and participants are armed with water-delivery devices – squirt guns, hoses, etc. – as are the spectators … if they want to defend themselves, that is!
The whole shebang (or would this qualify as "shenanigans?") began 30 years ago, in 1987, when two local, rival softball teams, "Pier 1" and – wait for it – "The Beach Bums" went head to head with "The Beach Bums" coming out on top (natch). After the game, the teams drove up and down Tybee's Butler Avenue bombing each other with water balloons. Non-intuitively, the event was attractive to many and grew into a beloved island tradition: the Tybee Island Beach Bum Parade.
The best part of the parade – or perhaps the worst, it all depends on our perspective – is that YOU can get involved. If you want to both soak and get soaked, the Tybee Island Beach Bum Parade attitude appears to be: the more the merrier!
As with all events of this type, fun is fun but things can easily get out of hand if a few rules aren't made clear. They are as follows: "Water balloons, buckets and pressure washers are prohibited and considered dangerous. No ice water. Restrict your targets to parade participants and on-lookers only. Do not attempt to aim your hose or water gun at a police officer. Residents and visitors are asked to use common sense in choosing and soaking your targets. It is illegal to open car doors or homes to spray inside."
Tybee Island Beach Bum Parade
Friday, May 16, 2014 6:30pm
The parade is free – but plan on getting soaked!
Lodging for A Savannah Getaway Weekend
Getting soaked at the Tybee Island Beach Bum Parade is one thing but, when it comes to lodging, that's the last thing you need. Treat yourself to some of the most unique and beautiful lodging in the city at the historic McMillan bed and breakfast and get real value and comfort for your dollar.