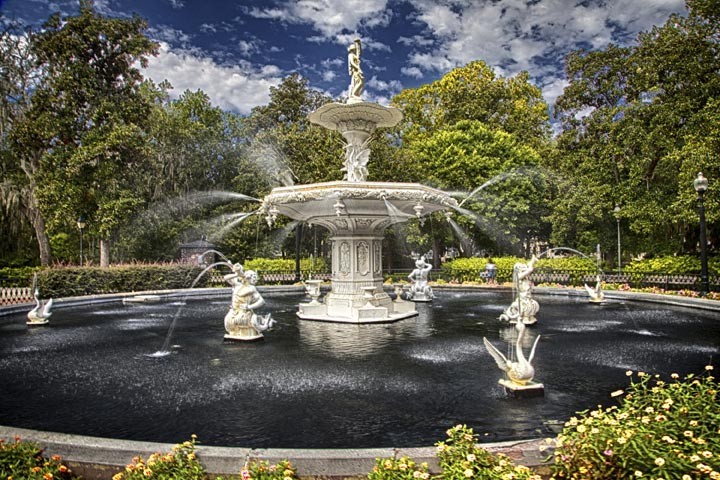 Savannah, Georgia is so full of beauty and history that trying to see it all can be overwhelming. One place you do not want to miss, however, is historic Forsyth Park.
The view of the spectacular Forsyth Park Fountain from down Bull Street is one of the most fampus and unforgettable Savannah vistas. Its iconic beauty stands as testament to the careful planning of the 19th century visionaries who saw the park as a gem to be cherished now and into the future.
The land of Forsyth Park was initially just outside the city and, during the American Revolution, it was the scene of one of the bloodiest battles of the war. The allied French and American armies used the acreage as a camp, with the north end, where the fountain now resides, being the beginning of an ill-fated siege entrenchment.
After the war and into the 19th century, America and Savannah grew in leaps and bounds. Influenced by the urban renewal efforts of our allies, the French, Savannah city planners envisioned a center of rich and serene beauty for the now mature city; an addition that would help expand the residential areas south.
The initial 10 acres of the proposed park were donated by William Hodgson in the 1840s. The plan expanded further in 1851 with a donation of another 30 acres from Georgia Governor, John Forsyth, a move of such generosity that he became the park's namesake. The fountain was added in 1858 and has become one of the most photographed parts of Savannah.
Extending from Gaston Street to Park Avenue along the Bull Street Corridor in Savannah, the Forsyth Park acreage includes numerous walking paths, open areas, a café, a children's play area, a fragrance garden, tennis and basketball courts, soccer, rugby, and Frisbee fields, the aforementioned fountain, and the equally iconic Confederate Memorial.
The Confederate Memorial was added to the center of Forsyth Park in 1879. A tall, ornate column supporting a bronze statue of a Confederate soldier, this solemn, monumental memorial is dedicated to all the men who fought on behalf of the Confederacy during the Civil War. Forsyth Park was not only a logical place for the memorial but also an appropriate one: many of those who fought and died for the South in this conflict drilled here prior to being deployed.
Lodging Near Forsyth Park
Located in Savannah's Historic District, McMillan Inn is less than ten minutes walk from the east side of Forsyth Park. When you're in Savannah, whether it's for business or pleasure, make it pleasure by staying with us. McMillan Inn is a restored, 1888 Italianate Revival Inn, centrally located and within walking distance to all the major attractions in "America's best pedestrian city."