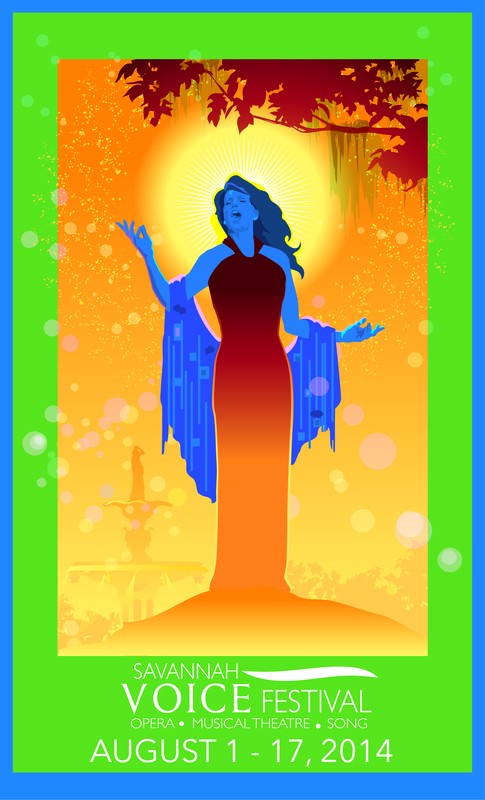 The 2014 Savannah VOICE Festival is a two-week celebration of excellence in vocals through opera, musical theater and popular songs, scheduled for August 1st through the 17th, 2014.
Offering a host of programs – both performance and educational – many of the Savannah VOICE Festival events are free, while others require tickets for admission, ranging from $18 to $65. Below is a quick overview of just a few of the events on tap at the Savannah VOICE Festival, designed to whet your appetite for what is sure to be an amazing exhibition of talent:
Death, by Aria Parts I & II
Fri, Aug 1 – 6:30pm, Sat, Aug 2 – 1:00pm
An introduction to the artists of the 2014 Savannah VOICE Festival as they perform opera arias, musical theater, and song in a casual cafe setting.
VOICES Out of a Hat – A Music Trivia Concert
Sat, Aug 9 – 3:00pm – 4:30pm
What happens when you pick a musical question out of a top hat? An interactive and entertaining concert – but don't worry: participation is not required to attend!
Teen VOICE Showcase
Sun, Aug 10 – 3:30pm – 4:30pm
Savannah's youth talent takes the stage to offer a concert showcasing their considerable talent as well as their growth in the vocal arts.
VOICES of Sacred Song
Tues, Aug 12 – 6:30pm – 8:00pm
An uplifting and inspirational concert of songs, oratorios, and liturgical music.
Opera Idol Competition
Fri, Aug 15 – 5:00pm – 7:00pm
Studio artists enter into a lighthearted competition before the VOICE Faculty panel of judges. Who will win to become Opera Idol?
And, of course, much, much more.
Organized by the VOICExperience Foundation, the Savannah VOICE Festival's mission is to perpetuate and highlight the vocal arts by bringing quality vocal performance and education to the southeast via the best names in opera and song. Show your support of the vocal arts and enjoy an amazing array of performances and talent by attending one of the many exhibitions on schedule for this year's Savannah VOICE Festival.
The 2014 Savannah VOICE Festival
August 1st through the 17th, 2014
For a full schedule, a list of attending artists, tickets, and more, please visit: www.savannahvoicefestival.org
Savannah VOICE Festival Lodging
McMillan Inn, your Savannah vacation headquarters, features twelve luxurious rooms and the Carriage House within two blocks of historic Forsyth Park. When you stay at McMillan Inn, you not only experience an era gone by but are also treated to the finest in modern amenities. Elegance, value, Victorian charm, and the best of Southern hospitality – that's the McMillan Inn.