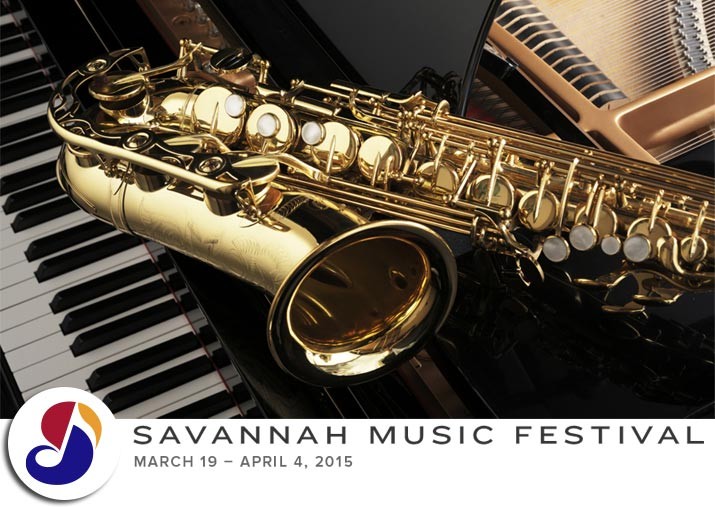 One glance at the schedule for the 2015 Savannah Music Festival will show anyone familiar with the annual event just how much it continues to evolve and grow.
Scheduled for March 19 through April 4, this year's event features the most international acts and number of programs and to date, along with presenting the first full-scale opera in Savannah Music Festival history!
The 2015 Savannah Music Festival's opening weekend will feature two Puccini operas – "Suor Angelica" and "Gianni Schicchi" – as presented by the Savannah Philharmonic with baritone Mark Delavan, sopranos Verónica Villarroel and Micaëla Oeste, and Eugene Kohn conducting.
Other festival highlights include the Marcus Roberts Trio, Wycliffe Gordon and friends, Mavis Staples, Irma Thomas and the Dirty Dozen Brass Band, Balsam Range, Hot Rize, Buckwheat Zydeco, Asleep at the Wheel, Lucinda Williams, Béla Fleck, and Rosanne Cash.
The Savannah Music Festival, which has been an annual event since 1989 and is dedicated to promoting arts education and uniting artists with audiences through the celebration of music in a world-class festival setting. The Savannah Music Festival remains one of the most distinctive multi-genre music festivals the world over.
2015 Savannah Music Festival Line-up:
Acoustic Music Seminar Finale: Stringband Spectacular
AJ Ghent Band
The Apache Relay
Arias & Encores: Featuring artists from the Sherrill Milnes VOICE Programs
Asleep at the Wheel
Atlanta Symphony Orchestra Lynn Harrell
Balsam Range
The Barr Brothers
Béla Fleck with Brooklyn Rider
Blues in the Garden: Heritage Blues Orchestra
Bouncin with Bud: Tardo Hammer plays Bud Powell
The Boxcars
Cajun Dance Party: The Band Courtbouillon
Chamber Music I : Around Beethoven
Chamber Music II : Orchestral Masterworks by Mozart & Mendelssohn
Chamber Music III: BRAHMS & HIS INFLUENCES
Chamber Music IV : Early Masters
Chamber Music IX : Bruch & Brahms
Chamber Music V : Emerson String Quartet
Chamber Music VI : Emerson String Quartet with Daniel Hope & Friends
Chamber Music VII : Vive la France
Chamber Music VIII : Brooklyn Rider
Chamber Music X : Passionate Piano Quartets
Clarice Assad
Come Rain or Come Shine Featuring Kurt Ollmann, J.J. Hobbs & Rebecca Flaherty
DakhaBrakha
Dave Stryker Quartet
Dianne Reeves
Dirk Powell & Riley Baugus
Dirty Dozen Brass Band
Earls of Leicester Featuring Jerry Douglas, Shawn Camp, Charlie Cushman, Tim O'Brien, Johnny Warren and Barry Bales
Hot Club of Cowtown
Hot Rize
Jason Marsalis Vibes Quartet
Josh Ritter
Julian Lage & Jorge Roeder
Kayhan Kalhor & Brooklyn Rider
Kodo
Late Night Jam with Sean Jones Quartet featuring Wycliffe Gordon & Friends
Latin Dance Party: Adonis Puentes & The Voice of Cuba Orchestra
The Louis Armstrong Continuum
Lucinda Williams
Lúnasa
Marcus Roberts Trio
McIntosh County Shouters
Mike Marshall & Choro Famoso
New Orleans Soul & Brass Party: Irma Thomas
Off the Cliff
One True Vine: Mavis Staples
Recitals I : Nikolai Lugansky, piano
Recitals II: Miloš Karadaglic, guitar
Recitals III : Stephen Hough, piano
Recitals IV : Murray Perahia, piano
Recitals V : Paul Lewis, piano
Rosanne Cash
Sean Jones Quartet
Shakey Graves
Shovels & Rope
Vusi Mahlasela
Southern Troubadors: Joe Ely, Ruthie Foster and Paul Thorn
Suor Angelica & Gianni Schicchi
Swing Central Jazz Finale
Mike Marshall & Choro Famoso
Warren Vach Quintet
Warren Wolf & Wolfpack
The Wood Brothers
The World of Clarice AssadFeaturing Off the Cliff & Mike Marshall
Zydeco Dance Party: Buckwheat Zydeco
2015 Savannah Music Festival
March 19th through April 4th
For a full schedule of performances, a list of venues, and tickets can be found here: www.savannahmusicfestival.org
2015 Savannah Music Festival Lodging
McMillan Inn's convenient location in Savannah's historic district means that the majority of the festival venues are within walking distance of our Savannah B&B. The Savannah Music Festival fills Savannah to the brim with visitors like nothing else. If you hope to attend the 2015 Savannah Music Festival, you'll want to book your rooms as soon as possible before the town fills up! So go ahead and book now for a musical, Savannah vacation – we'll be looking for you!