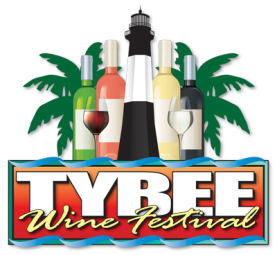 Tybee Wine Festival 2015 – April 22nd through the 26th – is the annual, springtime celebration of wine and coastal cuisine held on Georgia's gorgeous Tybee Island.
Wine, food, sun, and surf: Tybee Wine Festival 2015 has a little something for everyone with five fun and educational wine and fine cuisine events to choose from – take a look:
2015 Tybee Wine Festival Event Schedule
A Celebration of Earth and Vine – Wednesday, April 22nd
Grand Ballroom of the Tybee Wedding Chapel, 1114 1st Street – 6pm to 9pm
The Tybee Wine Festival homage to Earth Day's 45th anniversary, celebrated with a four-course wine dinner. Prepared and presented by a quartet of Tybee and Savannah celebrity chefs, each dish and accompanying wine is Earth Day-inspired. The dinner is preceded by a wine-tasting reception.
The Art of Pairing – Thursday, April 23rd
The Tybee Island Social Club, 1311 Butler Avenue – 7pm to 9pm
An intimate, sommelier guided, five-course wine-tasting dinner that will teach the fine art of wine-paring as it also delights, from appetizer through dessert.
An Evening of Oysters and Wine – Friday, April 24th
Marlin Monroe's Surfside Grill, 404 Butler Avenue – 6:30pm to 8:30pm
takes you to celebrate the coast's bountiful and beloved oyster. A popular al fresco event held beachside, you'll find oysters served six ways: grilled oysters, oysters on the half shell, confetti oysters, oysters rockafannie, tiger oysters, and marinated oysters – all to be sampled with perfectly matched wines and live music on the oceanfront setting as the sun goes down. Heaven!
Grand Wine Tasting – Saturday, April 25th
Tybee Island Light Station, 30 Meddin Drive – 3pm to 6pm
It should go without saying that the Tybee Wine Festival Grand Wine Tasting is the signature event of the event. More than 100 international wines will be on hand, ready to be sampled with a mix of delights from Tybee's best restaurants. The event also features live music, a silent auction, and a commemorative, 2015 Tybee Wine Festival wine glass to take home – and all on the spacious grounds of the historic Tybee Light House!
Sunday Champagne Brunch – Sunday, April 26th
The Crab Shack, 40 Estill Hammock Road. 12:30pm to 2:30pm
A sumptuous buffet of Southern-style, homemade delights closes out the Festival with offerings of deviled crab, scrambled eggs, shrimp, country ham, chipped pork sliders, beef round, plus luscious fresh fruits, chocolate desserts, pastries, and more. Set to live music and topped off with champagnes from a variety of wineries. A great way to toast farewell to the 2015 Tybee Wine Festival!
Tybee Wine Festival 2015
April 22 – 26
For more information and tickets, be sure to visit: tybeewinefestival.com
Tybee Wine Festival Lodging
Coming to Savannah for the 2015 Tybee Wine Festival? McMillan Inn, located in Savannah's historic district, is less than 30 minutes away from Tybee Island. With twelve rooms and a Carriage House to choose from within walking distance of historic Forsyth Park, McMillan Inn is a wonderful way to experience the luxury and hospitality of our classic, Southern city.