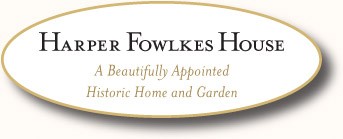 Take a fascinating journey back in time with a tour of Savannah's lesser known Harper Fowlkes House, built in 1842!
Renovations, disputes, and a continual changing of hands informed the history of this home until it was purchased by Alida Harper Fowlkes in 1939, who lived here until her death in 1985. During her ownership, the house was renovated and filled with art and antiques.
After her death, the house was bequeathed to the Georgia branch of the Society of the Cincinnati. The Society of the Cincinnati is an organization of direct descendants of George Washington's officers from the Revolution. Alida's brother and father were both members. Alida's will stipulated that the house be maintained for future generations to visit.
All of the furnishings seen in the Harper Fowlkes House were collected by Alida. The tasteful collection of sculpture, paintings, and Rococo frames provide insight into Alida Harper's affection for art.
The real star of the show, though, is the house, itself.
The Harper-Fowlkes House has a wealth of classic architectural details. The four Corinthian columns of the entrance exude Savannah's antebellum days. So, to does the classic oval of the entrance hall rotunda.
One of the home's most striking features is its' collection of chandeliers. Original to the house, these beauties were initially "gasoliers." Though now converted to electricity, they were designed to burn gas.
Other fascinating details include the elliptical opening of the stairwell, and don't miss the magnificent federal styled, mahogany clock in the hall. It's been keeping time here since 1847!
The Harper Fowlkes House also features a traditional southern garden that is worthy of your attention. Come tour a historic house that is filled with antiques, yet retains the feel of a warm and living home!
Harper Fowlkes House
230 Barnard Street, Savannah, GA 31401
Mon. and Wed. – Sat. 10 – 4 p.m.
For more information, please visit: www.harperfowlkeshouse.com
Harper Fowlkes House Lodging
After a visit to a beautiful historic, Savannah home, why lower the bar by having to return to some cold hotel or motel? Retire instead to McMillan Inn! Our opulent Savannah inn offers classic comfort in the tradition of true Southern hospitality. What better compliment to your Savannah getaway than accommodations in a historic Savannah home? Book your stay at McMillan Inn, now!