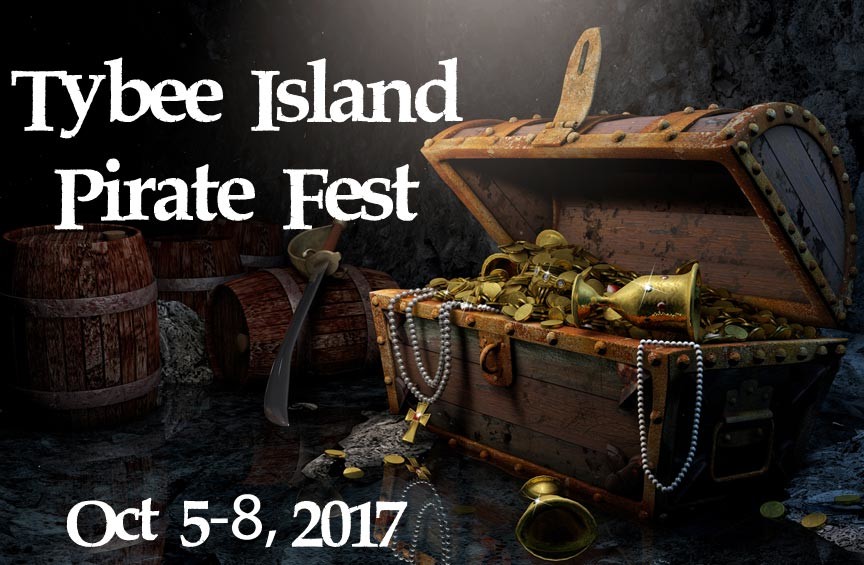 Avast, look alive mateys! October 5th through the 8th, 2017 are the dates for the 13th annual Tybee Island Pirate Fest! This family friendly free for all of fun includes a parade, live music, pirate performances and much more!
Looking for some good grog and a place to get that pegleg sanded, that eye-patch mended, or some candles for your beard? If you replied "Aye!" to any of these questions, then set sail for the Georgia coast and weigh anchor at Tybee Island Pirate Fest 2017!
Whether your a fun-loving tyke or a full blown, barrel chested rogue, Tybee Island Pirate Fest is a free for all of pirate fun for all ages. In the 13 years since its inception, Tybee Island Pirate Fest has grown into a whale of a party encompassing the entire South Beach Parking Lot by the Tybee Pier from Tybrisa Street to 18th Street.
The annual, 18-and-up Buccaneer Ball kicks off the weekend at Tybee Island's Crab Shack. The ball includes live music, costume contests, and the crowning of the 2017 Pirate Fest King and Queen.
Another big highlight is the traditional Pirate Victory Parade. Elaborate pirate ship floats and outrageous pirate costumes will keep you amused throughout. All you have to do is find yourself a good seat from which to witness the event. May we recommend going early?
Another good draw is the Thieves Market. Here you will find all manner of pirate booty, including costumery, arts and crafts, and lots of pirate-themed gifts.
Musical entertainment for this year's Tybee Pirate Fest includes Colt Ford, In for a Penny, Allman Brothers Tribute Band Midnight Riders, Big Engine, Damon & the Shit Kickers, and wandering pirate musicians, The Motley Tones!
2017 Tybee Island Pirate Fest Event Schedule
Thursday, October 5th
6pm to 10pm – Buccaneer Ball at The Crab Shack: 40 Estill Hammock Road
Friday, October 6th – 5pm to 11pm
Motley Tones – Roaming musicians
In for a Penny
7pm – Midnight Riders Nashville Allman Brothers Tribute Band
8:30pm – Big Engine
Saturday, October 7th – 10am to 11pm
Motley Tones – Roaming musicians
12pm to 1pm – In For A Penny
1pm to 1:30pm – Children's & Pets Costume Contest
1:30pm to 2:30pm – Damon & the Shit Kickers
3pm to 5pm – Pirate Victory Parade
5:30pm to 6pm – Rogues, Wenches & Krewes Costume Contests
8:30pm to 10:30pm – Colt Ford
Sunday, October 8th – 12pm to 4pm
TBA
Tybee Island Pirate Fest
October 5th through the 8th, 2017
Sail on over to tybeeisland.com for tickets and more information.
Tybee Island Pirate Fest Lodging
McMillan Inn is located in the heart of Savannah's historic district and less than 30 minutes away from Tybee Island. Our lush and historic Savannah B&B offers true Southern hospitality and extravagant appointments. Book your stay at McMillan Inn today!