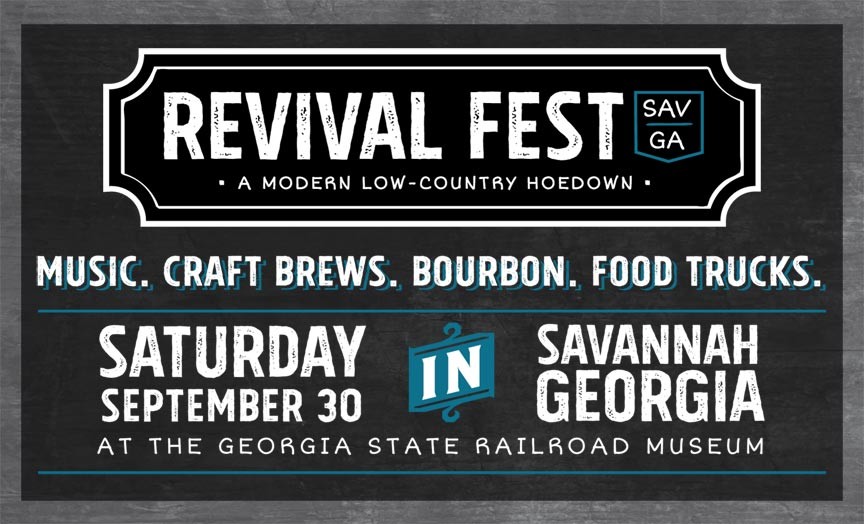 Savannah Revival Fest is coming! This "modern, Low-Country hoedown" features an eclectic array of great bands, food trucks, drink, vendors, and more. Americana/folk rock favorites, Blitzen Trapper are headlining, with Big Sam's Funky Nation, Cale Tyson, and many others. Saturday, September 30th, 2017 at the Georgia State Railroad Museum.
Revival Fest is an annual music festival that focuses on Southern music across a wide range of genres. Blues, soul, southern rock, folk, Americana, bluegrass, and more take the stage and the air while audiences take to their feet. The family-friendly, all day festival promises 12 bands on two stages at the old Paint Shops and adjoining grove on the Railroad Museum grounds.
But that's not all.
Revival Fest also boasts local and regional food trucks serving up their finest eats with plenty of craft beer and bourbon to wash it all down. Local vendors will also be on hand, selling all manner of amazing, one-of-a-kind handmade goods and other items. There are even a host of fun activities to keep the kiddies happy.
2017 Revival Fest Lineup
Blitzen Trapper – Americana Rock and Roll
Big Sam's Funky Nation – Funk / Soul / New Orleans Brass
Ruby Velle and the Soulphonics – Soul / R&B / Funk
Ranky Tanky – Gullah" / Jazz / Gospel / Soul
Hardy & The Hardknocks – Southern Rock / Grunge / Punk
Blackfoot Gypsies – Blues Rock / Garage Rock / Punk Attitude
Cale Tyson – Outlaw Country
The Trainwrecks – Americana / Bluegrass / Rock
Caleb Caudle – Alt Country / Americana / Folk
Bottles & Cans – Blues / Swamp Rock
Sweet Thunder Strolling Band – Wandering Southern Minstrels
Keep up to date with announcements as the date approaches with the Revival Fest website and Facebook page.
Revival Fest 2017
Saturday, September 30th, 2pm to 11pm
Georgia State Railroad Museum
655 Louisville Road, Savannah, GA 31401
Revival Fest took a hiatus in 2016, so audiences are more than ready for the event's triumphant 2017 return. Tickets are available online but are going fast. Snap yours up now, while you can. Children younger than 10 are admitted free.This year's event serves as the annual fundraiser for the Savannah Children's Museum. Come on out to Savannah's annual giant, back yard party and support a good cause!
Revival Fest Lodging
You may need some reviving yourself, after a day's fun at Revival Fest. McMillan Inn is just what the doctor ordered! Our Savannah B&B, housed in a lovingly restored, 1888 mansion, offers six rooms and a Carriage House for your comfort. Plus a veranda, parlor, courtyard, and more to relax in. All of that plus we're located in Savannah's downtown historic district, meaning you're just minutes (or even just steps) away from the Revival Fest and most of the rest of what brought you here. Book your stay at McMillan Inn now!