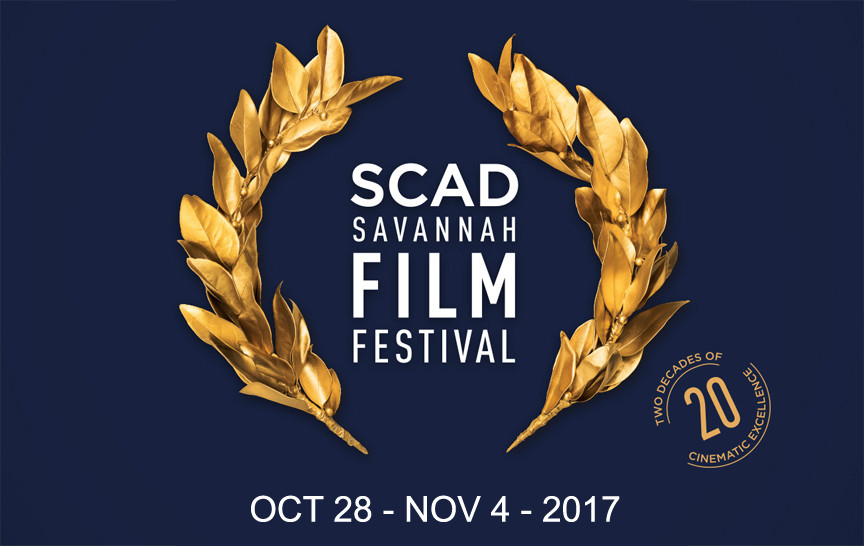 What do Salma Hayek, John Boyega, Holly Hunter, Robert Pattinson, Aaron Sorkin, and Patrick Stewart have in common? They're all going to be at the 2017 SCAD Savannah Film Festival as honored guests! Will you be there to greet them? October 28th through November 4th, 2017 in Savannah GA.
The annual SCAD Savannah Film Festival is the nation's largest university-run film festival and is held in on the Savannah College of Art and Design campus. The festival includes exclusive screenings, competition films, feature films, documentaries, shorts, animated films, panel discussions, and workshops.
The SCAD Savannah Film Festival is known for screening Oscar-buzzworthy films and has become an important stop on the awards circuit. In 2016, for example, the festival screened "La La Land," "Moonlight," "Lion," "Arrival" and "Manchester by the Sea," all of which went on to receive Oscar nominations for Best Picture. "Moonlight," of course, took the top honor.
2017 marks the 20th anniversary of SCAD Savannah Film Festival and, as such, is as star-studded as ever. As mentioned in the opening, a number of big names will attend the festival as honored guests. They will appear with their current films to receive the honors and engage in post-screening conversations.
Honree Actress Salma Hayek Pinault will receive the Outstanding Achievement in Cinema Award; John Boyega, the Vanguard Award; Holly Hunter, the Icon Award; Robert Pattinson, the Maverick Award; Aaron Sorkin will receive the Outstanding Achievement in Directing Award; Sir Patrick Stewart will receive the Legend of Cinema Award.
Another highlight for this year's SCAD Savannah Film Festival is "Docs to Watch," a screening of many of the year's best documentary features. Directors of ten of the documentaries will be on hand for 90-minute, post-screening conversations. Truly a fascinating opportunity to learn more about what goes into making a successful, feature length documentary.
So go ahead, attend the event that draws Hollywood stars, industry insiders, and more than 50,000 fans to Savannah: SCAD Savannah Film Festival!
2017 SCAD Savannah Film Festival
October 28th through November 4th, 2017
SCAD 342 Bull St, Savannah, GA 31401
Tickets, updates, and other details are available at filmfest.scad.edu. You can also follow the event on Facebook.
SCAD Savannah Film Festival Lodging
You're in one of America's most historic cities, why stay somewhere that doesn't embody that spirit? McMillan Inn is a lovingly restored, historic Savannah B&B. That doesn't mean we've skimped on modern conveniences, however! WiFi, Jacuzzi tubs, flat screen TVs, and more will make your stay in one of our 8 rooms that much more comfortable. Add in our location in Savannah's downtown Landmark Historic District and you've a recipe for the best Savannah getaway ever. Book your stay at McMillan Inn today!