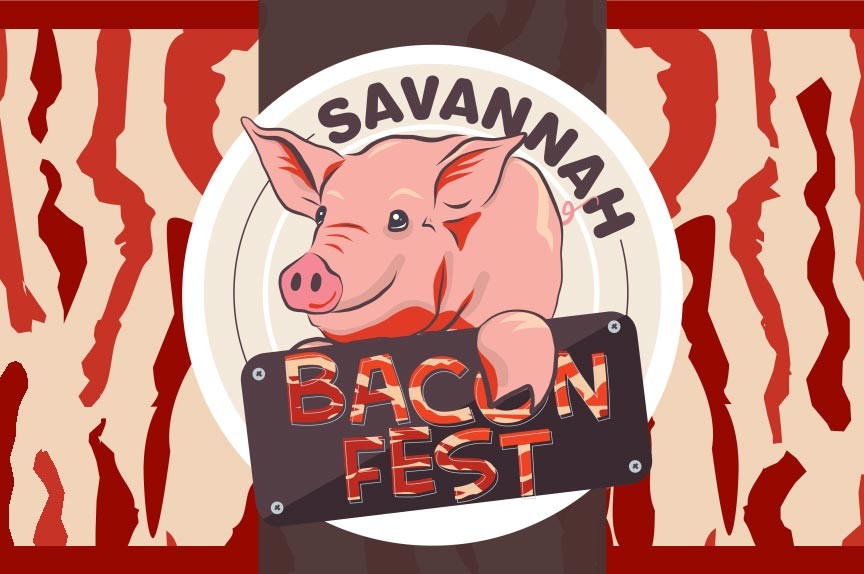 It's just about that time again: Savannah Bacon Fest 2018! Come out and celebrate everything bacon on Savannah's River Street with delicious food and drink, live music, and arts and crafts. September 7th through the 9th, 2018.
Sound the sirens and tie on your bib: River Street's 6th annual Savannah Bacon Fest is just weeks away. If you love bacon (what self-respecting carnivore doesn't?), your head will explode when you scent the offerings at this event. Every year, select local restaurants serve up the very best in tantalizing bacon creations.
Endlessly Delicious Bacon!
Savannah's fabulous chefs pull out all the stops each year, producing a fest-full of both unique and classic bacon-based treats. You'll see things like bacon popcorn, bacon brownies, candied bacon, and bacon cocktails. Take a lick of that pork belly lollypop, a sip of bacon cream soda, and nibble away at that bacon wrapped jalapeno. Savannah Bacon Fest is always a cornucopia of bacony-goodness.
Bacon isn't just what's for dinner either. Savannah Bacon Fest also includes a variety of bacon-themed entertainments. Previous year's events have featured such curiosities as mechanical pig rides, toy pig races, even a bacon-fueled motorcycle! As each year's festival tries to outdo the last, you can bet we're in for a real show at Savannah Bacon Fest 2018. You never know what they'll come up with!
Fireworks – Arts & Crafts!
Of course, the first day of the festival, September 7th, is a First Friday, and that means First Friday Fireworks at 9:30pm, presented by Wet Willie's. On Saturday, Bacon Fest will include a juried Arts & Crafts show. Regional artisans will offer one-of-a-kind, handmade gifts for purchase. Paintings, ceramics, photography, sculpture, woodwork, blown glass, and more. Come peruse their offerings and – maybe – get a little early holiday shopping done!
On top of it all, Savannah Bacon Fest 2018 will also feature a variety of live music from local and regional performers. So come on out for Savannah Bacon Fest 2018!
Savannah Bacon Fest 2018
Friday, September 7th, 4pm to 11pm
Saturday, September 8th, 10am to 11pm
Sunday, September 9th, 12:30pm – 11pm
Rousakis Riverfront Plaza, 115 East River Street, Savannah, GA
Visit www.riverstreetsavannah.com for more information.
Savannah Lodging
Our opulent Savannah B&B offers true, Southern hospitality through luxurious amenities, plush guestrooms, and elegant, historic surroundings. Let us transport you to a more refined era replete with modern comforts. McMillan Inn is conveniently located downtown in Savannah's Landmark Historic District. Book your stay at McMillan Inn today!