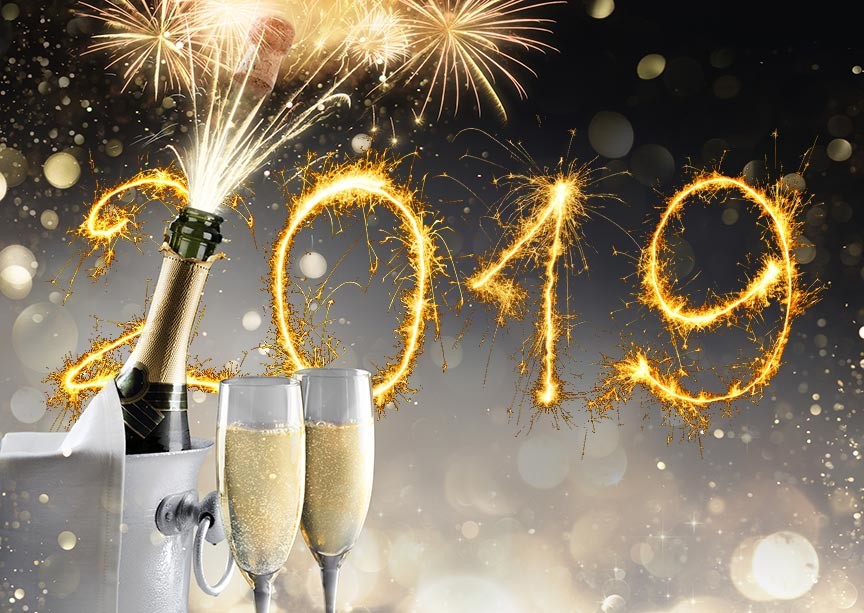 You can celebrate the end of 2018 in a variety of ways if you come to the Hostess City for a Savannah New Year's Eve! Riverboat cruises, fireworks, live music, and more!
There's always a variety of things to do and see in Savannah. We're one of the country's oldest cities, after all! This becomes especially true around the holidays, however. Sometimes it seems like there's almost too many great things to choose from. That's definitely the case with a Savannah New Year's Eve.
Restaurants and bars around town will be offering special meals and special deals, along with special events all day and night – and some well into the first morning of 2019.
It would be impossible to list every Savannah New Year's Eve 2018 event here in one small blog post. Instead, we compiled a list of some of the bigger favorites with visitors.
Savannah New Year's Eve 2018
Up the Cup Countdown – River Street – 8pm to Midnight
Ring in 2019 on Savannah's historic River Street plaza at the 6th Annual Up the Cup Countdown! The Up the Cup Countdown sees Savannah's 6-foot to-go cup ascend the pole at midnight, followed by a firework display. This event is sponsored by Wet Willie's and begins at 8pm with live music and drink specials.
City Market New Year's Eve – 9pm to 1am
City Market has long been Savannah New Year's Eve central and 2018 is no exception! There will be live, outdoor music throughout the evening and all the restaurants will be taking reservations. www.savannahcitymarket.com
Savannah Theatre's annual Rockin' New Year's Eve – 9pm to Midnight
"Rockin' New Year's Eve" is a two-hour musical variety show from the historic Savannah Theatre that finishes with a champagne toast and dancing on stage with the cast and live band 'til 12:30am. Don't miss this rousing, rollicking, fun, and friendly Savannah New Year's Eve tradition! www.savannahtheatre.com
New Year's Eve Riverboat Cruise – 3 different cruises
Savannah Riverboat Cruises offers a variety of ways to welcome 2019 from abaord a classic riverboat. There's a New Years Eve Dinner Cruise, New Years Eve Party Cruise, and a New Years Eve Gala Cruise. Each offers a different style of celebration, from family friendly, to formal wear, to out and out par-tay! Advanced Reservations are a must. Choose the one that suits you at savannahriverboat.com
Ghosts and Legends of Hofwyl-Broadfield Plantation – 10pm to 1am
Celebrate an eerie New Year at Georgia's most haunted rice plantation, the Hofwyl-Broadfield Plantation. Enjoy a lantern tour, ghost tales, plantation folklore, and some Lowcountry history. Celebrate the new year with the ringing of the plantation bell and some sparkling cider. Reservations required. gastateparks.org
Tybee Island New Year's Eve Fireworks – Midnight
Welcome 2019 with Tybee Island's annual, New Year's Eve fireworks show. The fireworks are launched from the Walter W Parker Pier and Pavilion at the stroke of midnight. Watch from the beach around the pier, as well many of the island's night spots. tybeeisland.com
Savannah Lodging
McMillan Inn's convenient, downtown location puts you within walking distance of many Savannah New Year's Eve celebrations. Our lovingly restored, historic Savannah B&B provides the very best of modern comforts merged with Southern tradition and hospitality. Reserve your stay at McMillan Inn today!