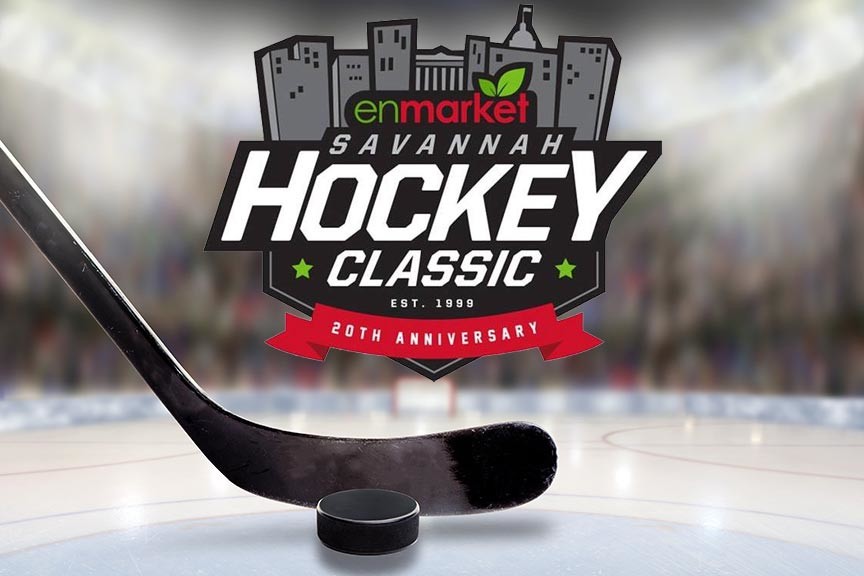 Come out to Savannah, GA this January for Savannah Hockey Classic 2019 and see Georgia, Georgia Tech, Florida, and Florida State battle for the Thrasher Cup. January 18-19, 2019 at the Savannah Civic Center.
The Savannah Hockey Classic (previously Savannah Tire Hockey Classic) is a collegiate hockey tournament featuring four of the South's most exciting hockey programs: University of Georgia, University of Florida, Georgia Tech, and Florida State. Strong media coverage, on-ice spotlight introductions, and player autograph sessions explains why the event draws crowds of 5,000+ every year.
The Savannah Hockey Classic, also known as the "Rumble in the Rink" and "the Beanpot of the South," celebrates its 20th anniversary this year. The very first event took place in 1999, with Georgia Tech capturing the first Thrasher Cup. The teams on that inaugural year included the University of Tennessee, in place of FSU.
Over those past 20 games, University of Georgia has come out on top with 8 wins. Georgia Tech is close behind with 7 wins since '99. University of Florida can claim 3 wins and the newest contender, Florida State, has 2. What will 2019 bring?
In honor of the anniversary, 90's Night, Friday, January 18th, will see a throwback to the 1990's. There will be 90's-themed activities, 90's music, attire, giveaways, and other fun salutes to the past.
2019 Savannah Hockey Classic Schedule
Friday, January 18th
6pm – Georgia Tech vs Florida State University
7:30pm – University of Florida vs University of Georgia
Saturday, January 19th
5:30pm – Florida State University vs University of Florida
8:30pm – Georgia Tech vs University of Georgia
Savannah Hockey Classic 2019
January 18-19, 2019
Savannah Civic Center
301 W Oglethorpe Ave, Savannah, GA 31401-3643
Visit the Savannah Hockey Classic website for tickets and more information. You can also follow this event on Facebook.
Savannah Lodging
McMillan Inn's convenient location in the downtown historic district puts the best of Savannah within easy reach! Why, even the Savannah Civic Center is only a mile away. Choose from our twelve guestrooms and Carriage House for unrivaled quality, elegance, and true Southern hospitality. Book your Savannah getaway today at McMillan Inn!