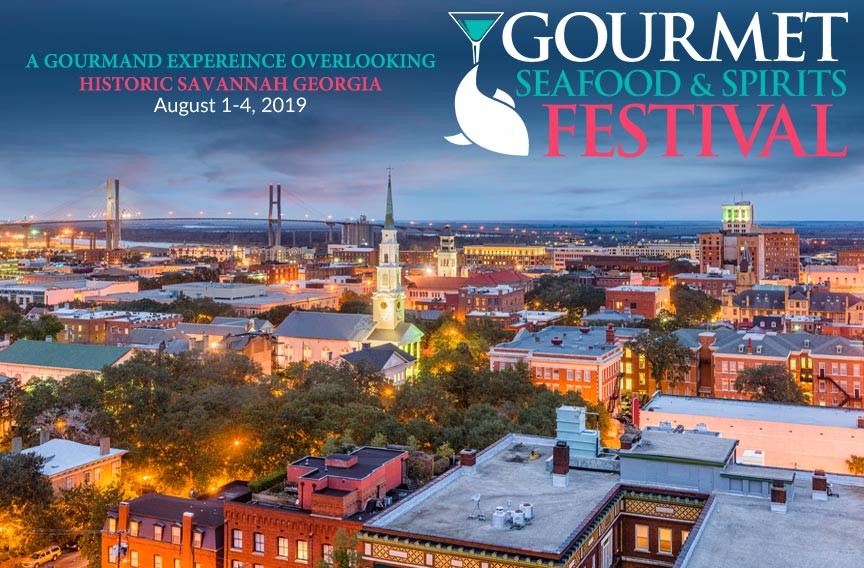 The 6th annual Savannah Gourmet Seafood & Spirits Festival is 4 days of mouth watering seafood dishes and craft cocktails prepped by culinary masters and champion mixologists. It's the Savannah seafood festival yo DO NOT want to miss! August 1st through the 4th, 2019!
Whether you're a fan of excellent food and drink or just a fun night out on the town, this annual Savannah seafood festival is for you! Chefs and mixologists from across the region and the country come both to participate in and partake of the event.
The beloved festival, originally titled "The Aquacurean," attracts thousands of food, drink and Savannah enthusiasts each year. The festival is held overlooking the Savannah River and historic downtown Savannah, adding a stunning visual element to each and every event.
Thousands routinely attend the festival and many of the events sell out early. If you hope to attend, now is the time to acquire your tickets and lodging!
Savannah Seafood Festival Events
Coastal Chef's Table – August 1st, 5:30pm to 8:30pm
The festival is once again kicked off by the Coastal Chef's Table. A five-course, wine-paired dinner prepared by chefs from around the world and certified wine experts. Guests will enjoy interactions with the world-renowned chefs, a live feed of the kitchen, and a sumptuous meal. All within the confines of the Westin Savanah Harbor Grand Ballroom.
Southbound Kegs & Big Green Eggs – August 2nd, 5:30pm to 9pm
Come out to the lawn and esplanade of the Westin golf course for an evening of beer, bbq, and Carribean-themed live music. Sip and sup on craft beer and spirits samplings plus creations from certified Big Green Eggspert barbecuers.
AquaCurean Challenge – August 3rd, 2pm to 5pm
Enjoy live music, seafood, spirit, wine, and beer tastings, and more during the popular AquaCurean Challenge! Watch as chefs and mixologists compete against each other for the best seafood and cocktail recipes, then vote for you favorite.
Rise & Reel Jazz Brunch – August 4th, 11am to 2:30pm
Wake to the day with a breakfast buffet of fresh seafood, a bloody mary bar, champagne, and excellent live jazz along the riverfront. Held at the Aqua Star Southern Coastal Kitchen.
Savannah Seafood Festival – Gourmet Seafood & Spirits
August 1st through the 4th, 2019
Visit gourmetseafoodandspiritsfestival.com for tickets, directions, and more details. You can also follow this event on Facebook, Instagram, and Twitter.
Savannah Lodging
McMillan Inn is a lovingly restored, 1888 Italianate Revival Inn, located in the heart of historic downtown Savannah. Unparalleled comfort awaits you in our 12 guestrooms and Carriage House. Enjoy modern amenities and classic style during your vacation at our Savannah inn. Book your stay today!