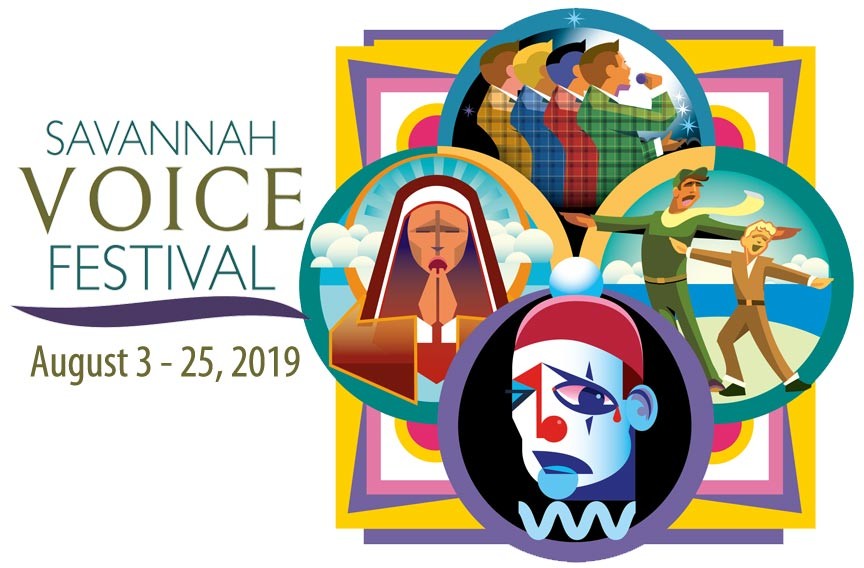 Get set for three weeks of stunning vocal performances at Savannah VOICE Festival 2019! Opera, musical theatre, and popular song performances in and around Savannah, GA. August 3rd through the 25th, 2019.
This year's impressive lineup includes four operas: Poulenc's "Dialogues of the Carmelites," Portman's "The Little Prince," Ching's "The Birthday Clown" and "I Pagliacci" from Leoncavallo. The festival isn't all operas, however. Broadway tunes, jazz, swing, and even rock music will all play a role in this year's festivities.
Examples include a tribute to Frank Sinatra, a concert of 60's and 70's hits, and a concert inspired by Julia Child.
Forever Plaid offers a dinner theater experience of close-harmony "guy groups" of the 1950s, while "Heaven on Earth" will transport you to Broadway.
Old favorites Death by Aria, Voices in Sacred Song, and a Salon Series are back as part of the festival, too.
The festival closes with the "Back to Earth" Gala Dinner Concert at the Plantation Club at The Landings. The evening includes cocktails, a pre-show, concert with dinner, and a preview of the Savannah Opera's 2020 season.
Savannah VOICE Festival has been bringing outstanding musical performances to the city for 7 years in a row, now. The event, started by opera legends Sherrill Milnes and soprano Maria Zouves, includes recitals, special dinner events, masterclasses, and more. This year's festival even includes a VOICE-themed 5k race!
No matter what kind of music you love, the Savannah VOICE Festival has an event or two for you!
Savannah VOICE Festival 2019
August 3rd through the 25th
For a full schedule, tickets, and more, be sure to visit the festival website. You can also follow the event on Facebook.
Savannah Lodging
Make McMillan Inn your Savannah vacation headquarters. Our luxurious guestrooms and Carriage House offer uncommon comfort within two blocks of historic Forsyth Park. Stay at McMillan Inn for the finest in modern amenities, the best old-world comforts, and the true meaning of Southern hospitality.