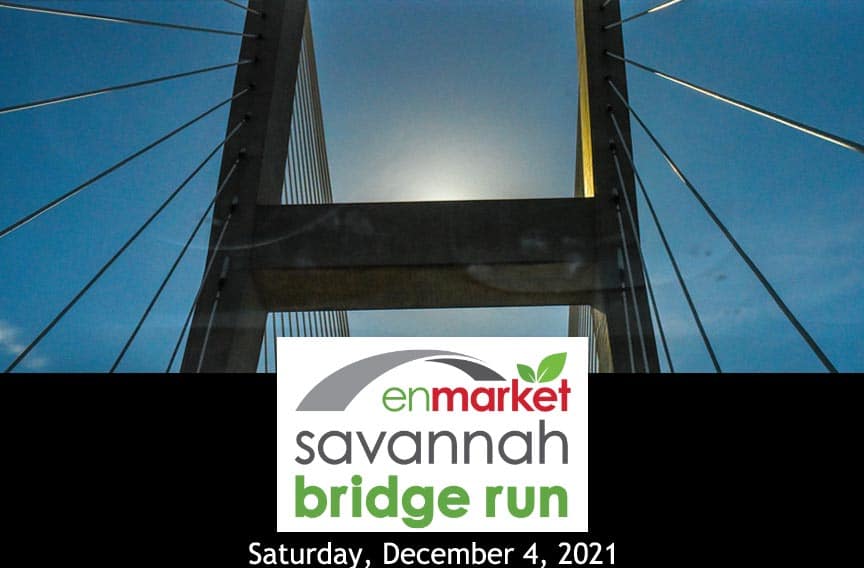 The Enmarket Savannah Bridge Run is back and in person for 2021! The 30th annual run over Savannah's historic Talmadge Memorial Bridge, "the South's toughest bridge race," is scheduled for Saturday, December 4th, 2021.
The Savannah Bridge Run has been a popular annual event in Savannah since 1991, drawing large crowds of both participants and spectators.
The event sees runners competing in a variety of races across Talmadge Memorial Bridge.
Talmadge Memorial Bridge is a 1.4 mile long, cable-stayed bridge connecting Hutchinson Island to downtown Savannah over the Savannah River. The bridge's slight, 5.5% grade takes runners some 196 feet above the river for stunning views and a one of a kind race.
2021 Bridge Run Details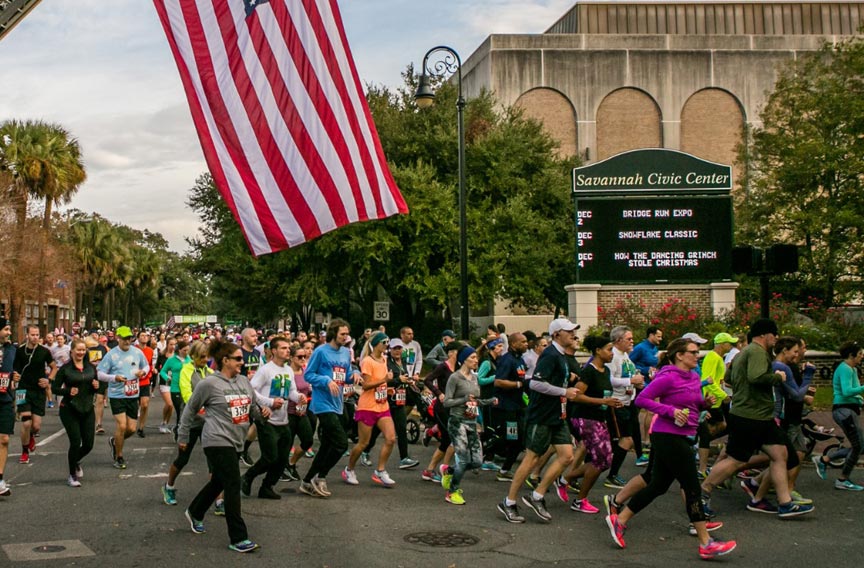 Participants can choose to participate in a 5K, 10K, or the Double Pump, which combines both races.
The 5K will have you crossing the bridge on time, from Hutchinson Island to downtown Savannah. There's also a 5K Ruck Division, where you run with a 10 or 20 pound backpack for some extra challenge. The 10K, on the other hand, starts off from the Savannah side and crosses the bridge twice. The Double Pump simply combines the 5K and the 10K for the biggest challenge of them all!
The Kids Run, meant for children 7 years of age and under, requires no registration. The Kids Race simulates the Bridge Run with a race up the hill of the Trustees Garden lawn.
All participants who cross the finish line will receive a participation medal for their race, a long sleeve participant shirt, and free access to the Post-Race Party.
This year's Post-Race Party will be held at at the north end of the Savannah Civic Center, located at 301 W Oglethorpe Avenue. Runners will enjoy Brunswick stew, cold beer and other drinks, plus live music from Charleston's Super Deluxe.
Savannah Bridge Run also encourages runners to join in the annual Bridge Run Costume Contest. Costumed participants will be judged by race volunteers and staff with prizes awarded to winners after the 5K awards. Always a lot of fun!
Health & Wellness Expo 2021
The annual Bridge Run also includes a Health & Wellness Expo at the Savannah Civic Center.
This year's Expo will feature up to 25 running and health-related vendors as well as cold beer and exclusive Bridge Run apparel. Come peruse the offerings, enjoy a drink, meet other runners, and buys some swag.
The Health & Wellness Expo is also where competing runners will pick up their registration packets on Friday, December 3rd.
2021 Savannah Bridge Run Schedule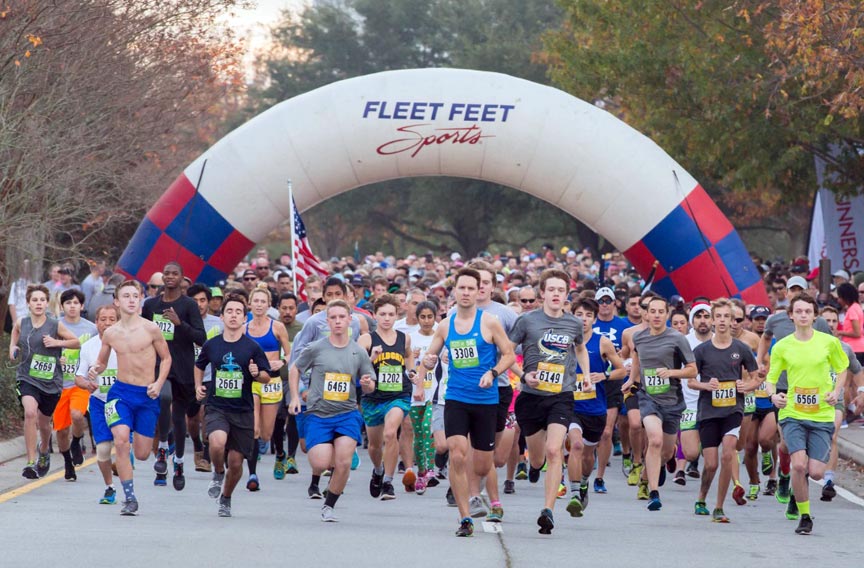 Friday, December 3rd
10am – Health & Wellness Expo opens
6pm – Kid's Run
7pm – Health & Wellness Expo closes
Saturday, December 4th
8am – 5K / Double Pump start
8:30am – 10K start / Post Race Party Begins
9:15am – Live Music by Super Deluxe
10am – 5K Awards/Ruck Awards/Costume Contest
10:30am – Live Music by Super Deluxe
11am – 10K Awards/Double Pump Awards/Corporate Challenge
11:30am – Live Music by Super Deluxe
12pm – Post-Race Party Ends
Visit the Savannah Bridge Run website for more information. You can also find the race on Facebook.
McMillan Inn's location in beautiful and historic downtown Savannah has you just minutes from the race at Talmadge Memorial Bridge – not to mention all of downtown's other attractions! Make the most of your Savannah getaway with a stay at our plush and historic Savannah bed and breakfast, McMillan Inn.