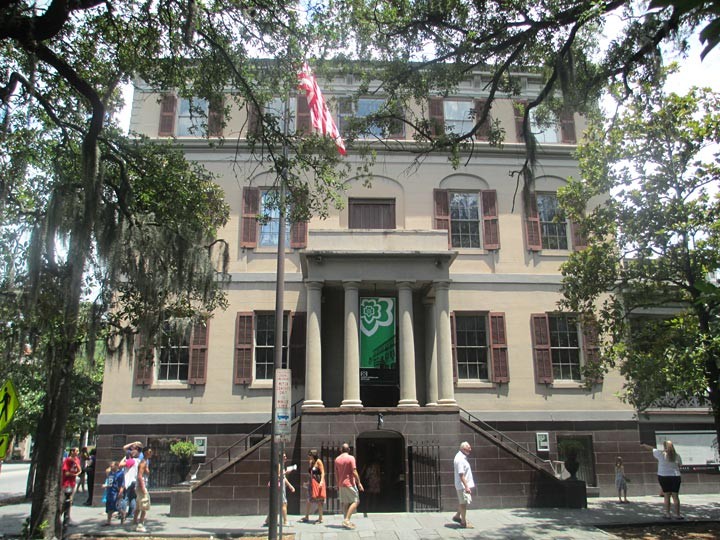 The Andrew Low House is an open window upon the Savannah of the past: a premier museum house, preserving not just the silver, porcelain, and paintings of a well-to-do family but a rich wealth of Georgia history.
With a thriving community and a long and fascinating history, there is a lot to take in when visiting Savannah but, if you're a history buff or have an interest in architecture, you will definitely want to tour the Andrew Low House.
Designed by John Norris, a renowned New York architect responsible for a number of beautiful buildings across Savannah, the Andrew Low House is neo-classic in style with a combination of Grecian and Italian details, including hand-carved woodwork and plaster cornices throughout. The exterior is a contrast of restraint with its smooth stucco and sandstone walls; only the intricate, ironwork balconies to hint at what awaits the eye inside.
The Andrew Low House collection includes photographs and archival materials relating to the Low family, and Georgia history as well a collection of period furnishings that includes pieces by some of the most prestigious, American furniture makers.
A brick-walled garden with hourglass-shaped beds was installed behind the Andrew Low House in 1848. It is one of the only 19th-century gardens still being tended in the city. The garden has, in fact, been continuously maintained for its entire 160-plus years and is currently overseen by the National Society of The Colonial Dames of America in the State of Georgia.
Andrew Low came to Savannah from Scotland in 1829 at the age of 16 to work in the cotton exporting business. He did well for himself, rising first to partner and then director of the Savannah operations. The house he had built was a showpiece even then and played host to many important visitors during his lifetime, including Union general Robert E. Lee and English novelist William Makepeace Thackery.
The Andrew Low House property is also the location of the very first Girl Scout headquarters. Andrew Low's son married Juliette Gordon, who founded the Girl Scouts of America in 1912. Located in the carriage house at 330 Drayton Street, Girl Scout First Headquarters is open to the public and maintains an important collection of Girl Scout memorabilia.
The Andrew Low House
329 Abercorn Street
For more information and tour schedules, please visit: www.andrewlowhouse.com
The Girl Scout First Headquarters