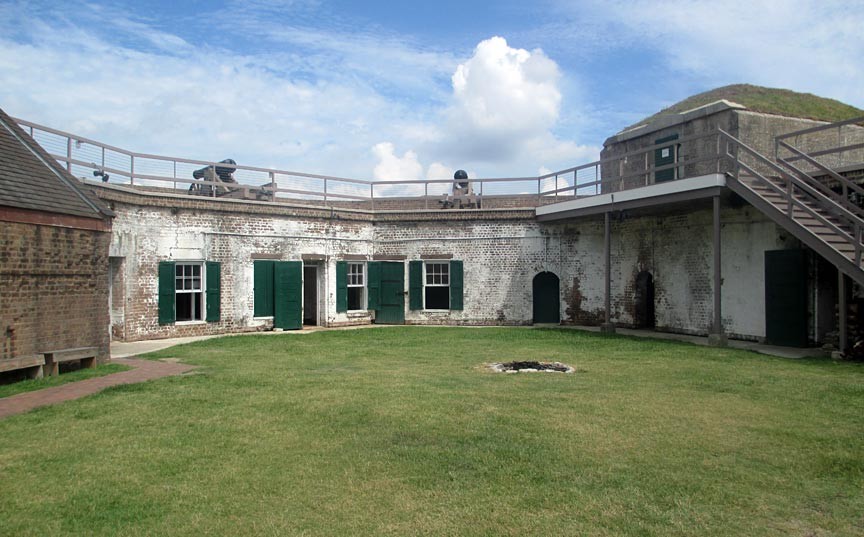 Georgia's oldest standing brick fortification is beautifully preserved and located on the Savannah River: Old Fort Jackson, constructed before the War of 1812.
Old Fort Jackson is one of Savannah's many, must-see National Historic Landmarks. Ordered built by then President, Thomas Jefferson, as part of a national defense system, Old Fort Jackson is named after the one-time governor of Georgia, James Jackson. It saw action in its efforts to to defend Savannah during both the War of 1812 and the Civil War.
Always a strategic area, Old Fort Jackson was constructed atop the site of an older, earthenwork fort built in the mid 1700's against British invaders. This earlier emplacement was abandoned in 1778, however, after a wave of illness convinced folks that its earth was "unhealthy."
The Civil War saw Confederate troops using the fort's defenses against Union forces until December of 1864, when Old Fort Jackson fell during General Sherman's destructive "March to the Sea". The Confederate men stationed at the fort did what they could to render the facility unusable to their enemies before retreating, including rigging the front gates to explode and setting the barracks on fire.
Despite this, Old Fort Jackson survived and now you can visit it! Managed by the Coastal Heritage Society, Old Fort Jackson is open seven days a week, offering daily cannon firings, interactive programs, and unique views of Savannah's riverfront skyline and the Talmadge Bridge. Don't miss it!
Old Fort Jackson
Open 7 days a week, 9am – 5pm
1 Fort Jackson Rd.
Savannah, GA 31404
chsgeorgia.org/Old-Fort-Jackson.html
Old Fort Jackson Lodging
Like so much of what brings people out for a Savannah vacation, Old Fort Jackson is but a 10 minute drive from McMillan Inn. Our convenient location in the Landmark Historic District of Savannah means that most of what you'll want to see is easily accessible and just minutes away – often on foot! After all, Savannah is: "America's best pedestrian city," and our restored, 1888 Italianate Revival Inn is perfectly situated to make that motto ring true!