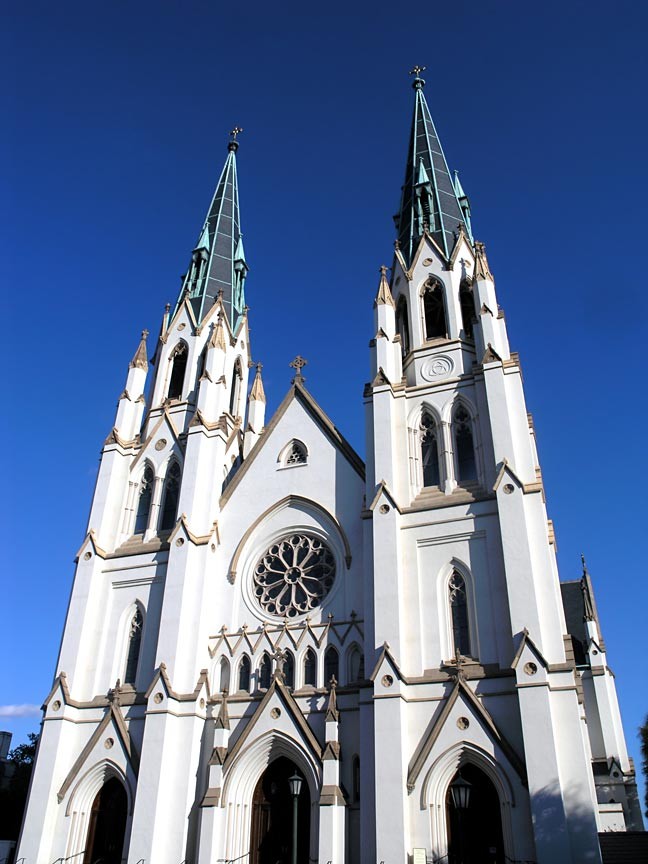 The grand architectural beauty and rich history of Savannah's Cathedral of Saint John the Baptist is affecting beyond words and worth visiting – no matter your personal beliefs.
Construction began on Savannah's Cathedral of Saint John the Baptist in 1873 and was completed in 1896 – making it oldest Roman Catholic church in Georgia. You might well wonder at why it took so long for such a structure to be built in Georgia, given that the state was established in 1732 and one of the original 13 colonies of the US.
What this set of facts overlooks, however, is the general mistrust for Catholicism that existed in the early days of the US. Afraid that adherents would show more loyalty to an Italian Pope than a British King, many of the colonies turned a harsh eye on Catholicism. Savannah's colonial charter even went so far as to prohibit Roman Catholics from settling here.
The prohibition went the way of the monarchy after the American Revolution, however, and soon thereafter, a Catholic congregation began to flourish in the state. Today, the Roman Catholic Diocese of Savannah has grown to include 90 counties!
The Cathedral of Saint John the Baptist is of French Gothic style with soaring European style architecture, an ornately decorated interior, and four side altars formed of white Italian marble. The cathedral's spires were added in 1896, stucco was laid over the exterior brick, and the entire edifice was whitewashed, completing the classic look of the structure.
Two years later the building was almost entirely destroyed by fire, with only the outside walls and the two spires remaining. Within less than two years the cathedral had been rebuilt and was once again holding mass. Still, it was another 13 years after the fire before the interior artwork and stained glass were fully restored.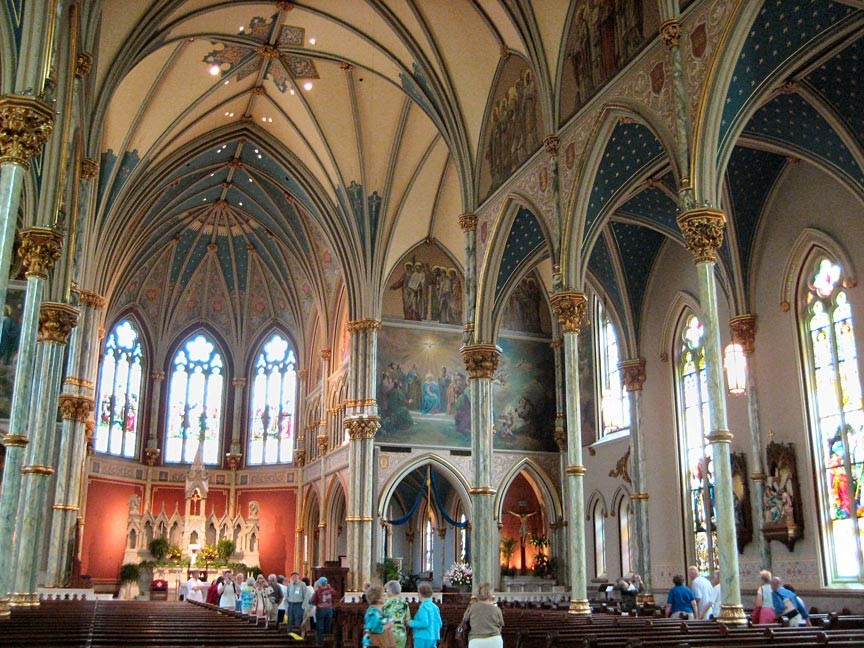 The cathedral's pipe organ was installed as recently as 1987 and is a Noack tracker organ with 34 ranks, 2,308 pipes, with a case and console made of solid white oak and black walnut. Other than the organ, only superficial and structural updates or restoration have been made to the classic European style and detailing of Savannah's Cathedral of Saint John the Baptist. It's soaring profile and delicately detailed interior are a joy to the eye and a truly striking testament to man's architectural artistry.
The Cathedral of Saint John the Baptist
222 East Harris Street, Savannah, Georgia
Monday – Friday 9am to 5pm
www.savannahcathedral.org
Savannah Lodging
We hope you'll consider McMillan Inn when you're in the area as our central location in Savannah's Landmark Historic District has us close to all manner of attractions, restaurants, shops, and historic points of interest. Enjoy fine lodging and amenities in the ideal setting for your luxury Savannah vacation. Book your stay at McMillan Inn, now!