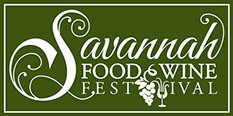 The second annual Savannah Food & Wine Festival, a natural outgrowth of Taste of Savannah, which took the city by storm last year, is back and scheduled for November 10th through the 16th, 2014.
The Savannah Food & Wine Festival continues to build on last year's overwhelming success with this year's event. A food-lover's dream, The 2014 Savannah Food & Wine Festival promises more special dinners and wine tastings, more cooking demonstrations and competitions, more celebrities, and more entertainment than ever before!
Take a look at just a few of the highlights and you'll see what I mean:
Celebrity Chef Tour – Wednesday November 12th, 2014
The Savannah Food & Wine Festival's Celebrity Chef Tour is an epic culinary event with award-winning, James Beard Foundation chefs teaming up for an amazing and interactive dining experience. This year's Celebrity Chef Tour includes some of the Southeast's leading chefs, including: Katie Button, Steven Satterfield, Kevin Gillespie, Jay Swift, and Rich Beichner.
Grand Reserve Tasting & Silent Auction – Thursday, November 13
This Grand Reserve Tasting, presented by the Big Green Egg, is THE wine-lover's event of the Savannah Food & Wine Festival. With every wine involved rated at 90+ points and averaging $50 per bottle, this is sure to be a stellar event – and a sell-out! Silent auction items are set to include one-of-a-kind wine lots, luxury travel opportunities, valuable merchandise, and services.
Epicurean Learning Experience – Friday, November 14, 2014
The Epicurean Learning Experience event is cooking classes, demonstrations, and seminars designed for anyone interested in wine, beer, spirits, and the culinary arts. A pass to this all-day event includes access to all six sessions:
"Mastering the Art of Southern Cooking" with Nathalie Dupree & Cynthia Graubart Cooking Demo
"Cabernet & Beef" with Master Sommelier, Larry O'Brien, Jackson Family Estates & Hunter Cattle Co.
"South in Your Mouth", chefs Sallie Ann Robinson, Joe Randall and Virginia Willis, Moderator: Damon Lee Fowler
"Bourbonistas" Four Roses Bourbon, Virgil Kaine Bourbon and more.
Linkie Marais, Food Network, Big Green Egg Grilling Demo with Master Beer Sommelier, Marc Stroobandt, Stella Artois brand ambassador
Chef Lenny McNab, the Gourmet Cowboy, "Pig & Pinot" Big Green Egg Grilling Demo, with Marita Esteva, La Crema National Ambassador
Taste of Savannah – Saturday, November 15, 2014
The 2014 Savannah Food & Wine Festival's main event, Taste of Savannah is an exciting way to enjoy some incredible Savannah food. With food from some of Savannah's best restaurants, hundreds of free wines, Belgian beers, and other spirits all available for free, unlimited tastings along with five free food tokens, you'd be a fool to miss this event. You can also attend a variety of cooking demonstrations, peruse the Artisan Market, rub elbows at the Celebrity Author's Tent, and enjoy the Bartender's Challenge and Waiter's Race contests.
Savannah Food & Wine Festival
Nov 10th – 16th, 2014
For tickets and a full schedule, be sure to visit: www.savannahfoodandwinefest.com
Savannah Lodging
McMillan Inn is the perfect place to stay during your culinary Savannah getaway. Our 1888, Italianate Revival Inn has twelve rooms and a Carriage House to choose from and all conveniently located in the Landmark Historic District, within minutes of Savannah's most popular destinations. Stay at McMillan Inn for lush appointments that will transport you to comfort and relaxation.