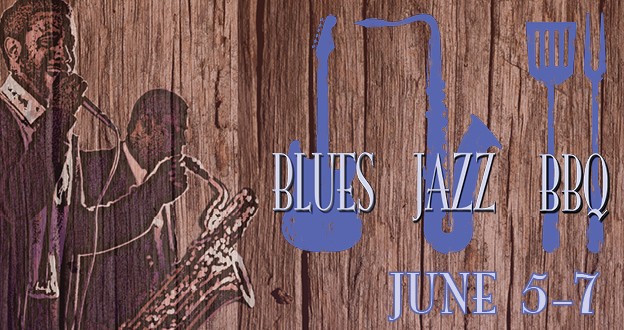 If you enjoy southern blues, smooth jazz, and sticky, smoky BBQ have we got the deal for you: Savannah's second annual Blues, Jazz & BBQ, June 5th through the 7th, 2015!
The Savannah Waterfront Association hosts First Friday and Saturday celebrations on Savannah's historic River Street during the first weekend of each month and, as a salute to the beginning of summer, June's First Friday and Saturday have been set aside for the 2015 Blues, Jazz & BBQ festival – part of the Savannah Blues Weekend.
All weekend long, Friday the 5th of June through Saturday the 7th, 2015 Savannah's historic River Street will be filled with the sights and sounds of deep southern blues, smooth cool jazz, hot, sticky BBQ, and lots of beautiful local and regional art. Of course, no First Weekend would be complete without Wet Willies' First Friday Fireworks display!
Though the 2015 Blues, Jazz & BBQ performance lineup has yet to be announced, you can bet it will not disappoint! Past years have included a talented mix of local and regional blues and jazz musicians such as the Velvet Caravan Band, the AJ Ghent Band, and jazz singer/comedian/radio host extraordinaire, Jacey Falk!
All of this great entertainment on top of the mouthwatering, nostril-teasing offerings from some of Savannah's best local BBQ joints: sweet and spicy ribs, pulled pork sandwiches, smoked turkey legs … okay – it's official: I'm ravenously hungry now.
As with last year, the Rhythm & Art Guitar project will continue to be a part of the festival: it's beautifully and creatively decorated, six-foot guitars will be located throughout the festival, each reflecting some other artist's impressions of Savannah. Funds raised from the Rhythm & Art Guitar project will go towards Savannah's H.U.G.S. Foundation, a non-profit guidance and counseling service.
Blues, Jazz & BBQ 2015
Rousakis Riverfront Plaza
Friday, June 5th: 4-10pm (First Friday Fireworks – 9:30pm)
Saturday, June 6th: 10am-10pm
Sunday, June 7th: 10am-5pm
https://savannahswaterfront.com
Blues, Jazz & BBQ Lodging
Located in the Landmark Historic District of Savannah, McMillan Inn is just blocks from River Street and Rousakis Riverfront Plaza. In fact, our convenient location has us – and more importantly, you, our guest! – within walking distance of most of what people come to Savannah for in the first place: museums, restaurants, galleries, shopping, and historical points of interest. Book your stay now and enjoy the uncommon comforts of Savannah's McMillan Inn!