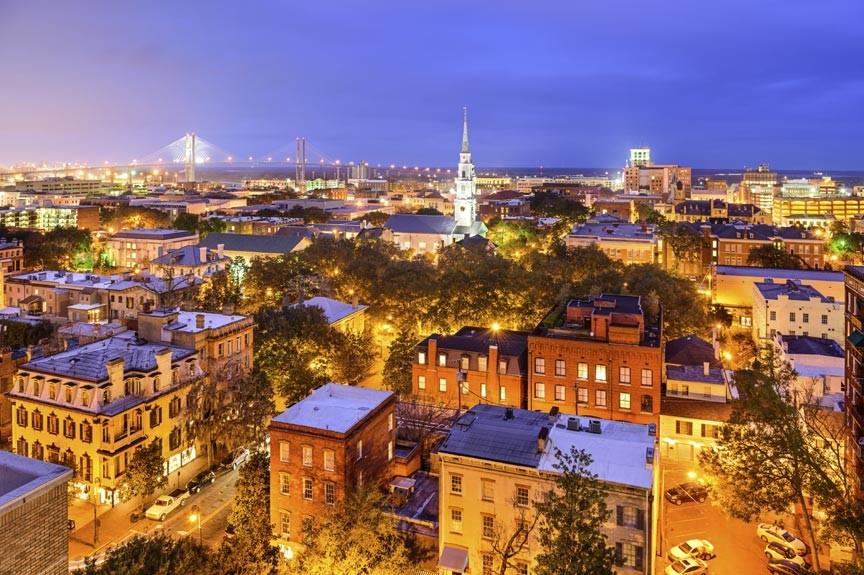 Savannah, Georgia has both a rich history and a vital present with lots to do, see, and experience. Getting to it all is a daunting task – so why not enlist some experts like Savvy Savannah Tours?
Savvy Savannah Tours offers six different tours exploring six different aspects of Savannah, from the spiritual to the spectral, from the edible to the entertaining, and more.
Scenes of Savannah Past Tour
One of the best walking tours offered by Savvy Savannah Tours, Scenes of Savannah Past Tour will take you through the 250 plus years of America's first planned city. Your guide and an iPad will help you to envision Savannah as a colony, a Victorian Era city, and more, up to the present day.
Spiritual Savannah Tour
Savannah's original charter was one of religious tolerance and this freedom, when allowed to flourish, has provided the historic city with a rich and diverse spiritual heritage. Savvy Savannah Tours Spiritual Savannah Tour will take you through Savannah's Landmark Historic District on a walking tour of beautiful and historic churches, cathedrals, synagogues, and memorial sites. Another must-see tour of Savannah!
Savannah Cinema Tour
The connection between Savannah and Hollywood is a strong one as the Savannah Cinema tour will prove. Familiar scenes from movies and TV shows like Cape Fear, Forrest Gump, The Food Network, Something to Talk About, The View, and – of course! – Midnight in the Garden of Good and Evil will leap out at you with the help of your guide.
Savor Savannah Tour
Prepare your taste buds, if you can – with the Savor Savannah tour, Savvy Savannah Tours will take you on a historical and gastronomical tour of Savannah's history and culture. Taste local specialties, from classic Southern cuisine to rich cultural infusion on Southern fare, with a sampling of food from six locally owned restaurants. Yum!
Savannah Shaken Tour
Are you ready to party? Discover Savannah's love affair with the Martini on the Savannah Shaken tour. Sip your way from one martini bar to the next with your Savannah to-go cup as you toast your way through the timeline of the Martini. 4 martinis are included – 21 or older only.
Savannah Suds Tour
Craft brewing is hot hot hot and Savannah is not immune. On the Savannah Suds tour, you'll hear about Savannah's brewing history and sample the full-flavored craft beers of three of Savannah's innovative, independent craft brewers, ending at Savannah's very own Moon River Brewery. 21 or older only.
Spectres of Savannah Tour
Rich with history, some would also say Savannah is rich with … ghosts! Savvy Savannah Tours Spectres of Savannah tour serves up all the ghost stories and experiences Savannah has to offer, from the Pirates' House – said to be the oldest home in Georgia – to the Marshall House – the oldest hotel in Savannah – and everything in between. Brrrrr!
Whatever your Savannah interest, Savvy Savannah Tours has the tour for you!
Savvy Savannah Tours
For reservations and more information, please visit www.savvysavannahtours.com or call: 800-979-3370
Savannah Tour Lodging
Touring Savannah is a great way to see the sites and learn about one of America's most historic cities – but you're going to want somewhere to call your home base – and that's McMillan Inn! We have twelve luxurious rooms and a Carriage House to choose from – all within walking distance of historic Forsyth Park. Come experience the beauty and comfort of our restored, 1888 Italianate Revival Savannah inn!