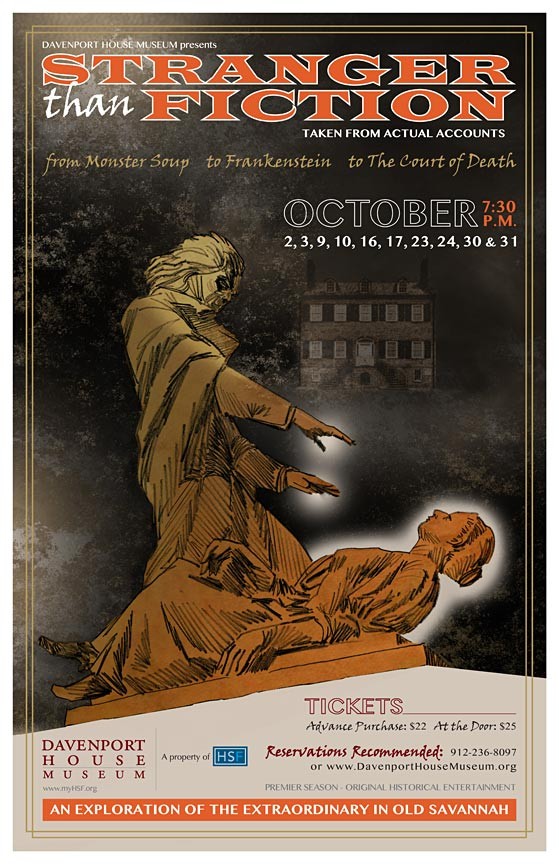 Savannah's Davenport House Museum is always a great place to visit but, as Halloween approaches, it becomes even more enticing as strange tales from Savannah's rich history bubble to the surface. Relive 19th century mysteries at The Davenport House Museum's "Stranger Than Fiction!"
The Isaiah Davenport House Museum is one of Savannah's portals to the past: a historic building restored to its 1820's glory for the sake of preservation as well as education.
Initially constructed around 1820, the Davenport House was originally the home of Savannah artisan Isaiah Davenport and his family. Later it was a boarding house, and even later still, a neglected building in need of either demolition or restoration. Luckily a group of concerned citizens formed the Historic Savannah Foundation with an eye on saving the Davenport House as it's first project and the rest is … a very special history museum!
Stepping through the doors of the Davenport House Museum, you'll be transported back to simpler times with original and restored home furnishings, decorations, even personal silhouettes of the original family. The overall effect being as if the family members could come through the door at any moment, refreshed to life in your imagination by the strength of the restoration's illusion.
Well, with the Davenport House Museum's special Halloween event "Stranger Than Fiction!", they DO come to life, via the special art of living history presentation!
"Stranger Than Fiction!" is a rare opportunity to take a 90 minute living history tour of the Isaiah Davenport House by candlelight – so spooky! Starting in the Kennedy Pharmacy next door, you'll learn about Phantasmagoria, Monster Soup, and other spooky entertainments of the 19th century. Thereafter, the action will take you to various rooms and floors of the Davenport House Museum – including the rarely seen attic!
Throughout "Stranger Than Fiction!", living history performers will portray members of the Davenport family and other 19th century Americans, including a free man of color demonstrating the spiritual practices of African-American Savannahians of the 1820s.
Ghost tales, superstitions, unsolved mystery, and even potions promising health, love, and death are on the menu during the Davenport House Museum's multi-storied "Stranger Than Fiction: An Exploration of the Extraordinary in Old Savannah."
The Isaiah Davenport House Museum
324 E. State Street | Savannah, GA
Monday – Saturday: 10am – last tour starts at 4pm
Sunday: 1pm – last tour starts at 4pm
"Stranger Than Fiction!"
Friday and Saturday evenings, 7:30pm
October 2, 3, 9, 10, 16, 17, 23, 24, 30 and 31, 2015
Tickets and more details: www.davenporthousemuseum.org
Davenport House Museum Lodging
Visiting the 19th century is wonderful but you soon begin to see why you're lucky to live when and where you do. Wouldn't it be great to be able to combine the best of both worlds? Don't dream it – live it! – with a stay at historic McMillan Inn, where Victorian elegance merges with modern luxury – and just two blocks from Forsyth Park in the Historic Landmark District of Savannah.