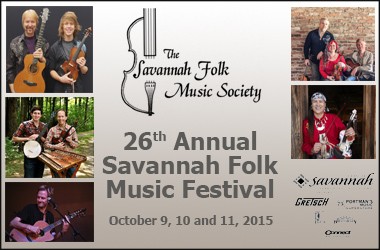 The 26th Annual Savannah Folk Music Festival is back and celebrating all things folk, Friday, October 9th through Sunday, October 11th, 2015!
Folk music is an important part of America's social, historical, and cultural fabric and the Savannah Folk Music Festival celebrates this living and lively with a series of events and concerts featuring some of the country's best folk musicians. After a quarter century, Savannah FolkFest has become not just an event but a tradition, drawing nationally and regionally recognized folk superstars, as well as attendees from around the country!
3 days of music and celebration, Savannah Folk Music Festival weekend includes an assortment of events designed to showcase the quality and diversity of musical talent – Traditional, Old Time, Blues, International, Folk Revival and Contemporary – that thrives in today's diverse folk music scene. As such, performances will span the full spectrum of the American folk music genre.
2015 Savannah Folk Music Festival Schedule
Friday, October 9
Folk Fest in Ellis Square
7pm – 7:40pm: Chris Desa
7:45pm – 8:15pm: Clark Byron
8:20pm – 8:50pm: Lauren Lapointe
8:55pm – 9:30pm: Jason Bible
9:35pm – 10:05pm: Jean Paul & Dominique Carton
10:10pm – 10:45pm: Savannah Ceili Band
10:50pm – 11pm: Ensemble Sing-along
Noteworthy Art and More Silent Auction – Ellis Square (Sponsored by Gretsch)
Bid on instruments painted, carved, and sculpted by talented Savannah artists and donated by the Gretsch Foundation. These wonderful and unique art guitars, violins, and other instruments are all playable!
Saturday, October 10
Youth Songwriting Competition – Stewart Hall: First Presbyterian Church
2pm – 5:30pm, 3:30pm – 5:30pm: With Rupert Wates
Old Time Country Dance – Notre Dame Academy Gym
7:30pm – 11pm: featuring music by Paving Gravy
Sunday, October 11
Concert at Grayson Stadium
1:30pm – 1:40pm: Opening Announcements
1:40pm – 2:40pm: Rupert Wates
2:45pm – 3:45pm: Arvel Bird
3:50pm – 4:50pm: Ken and Brad Kolodner
4:50pm – 5pm: Youth Songwriting Competition Winner
5:05pm – 6:05pm: Runaway Home
6:10pm – 7:15pm: Tim and Myles Thompson
Noteworthy Art and More Silent Auction – Grayson Stadium (Sponsored by Gretsch)
The silent auction continues – now with the addition of a brand new, Gretsch guitar, signed by all performers at the Sunday Grayson Stadium concert!
Best of all? All events at the Savannah Folk Music Festival 2015 are free, open to anyone!
Savannah Folk Music Festival
October 9 – 11, 2015
Savannah, GA
For more information, updated schedule and more, be sure to visit the Savannah Folk Music Festival website: www.savannahfolk.org.
2015 Savannah Folk Music Festival Lodging
Savannah is known as "America's best pedestrian city," and McMillan Inn's convenient location in the Landmark Historic District of Savannah means that much of the Savannah Folk Music Festival venues are within a short distance of our Savannah B&B. If you plan to attend Savannah's FolkFest, you'll want to book soon! Stay in McMillan Inn – our restored, 1888 Italianate Revival inn and experience both the limit of beauty and comfort that Savannah has to offer.