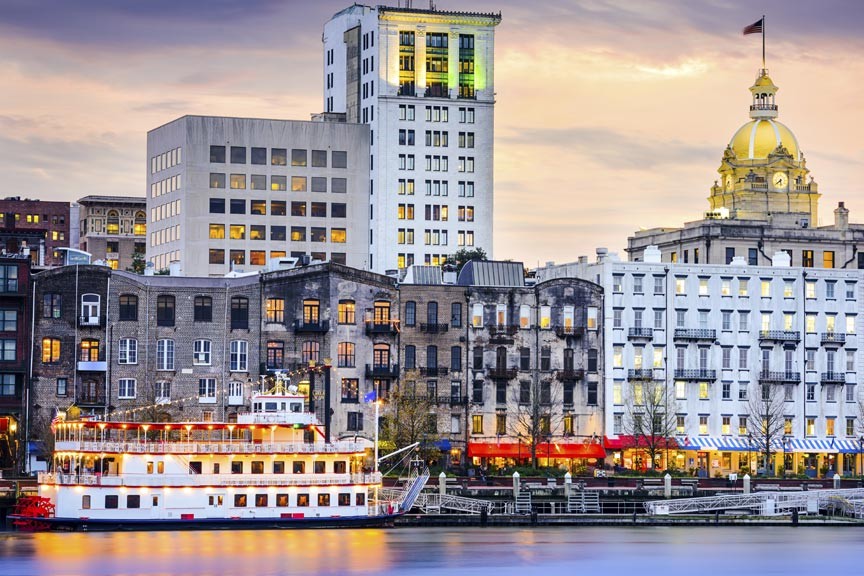 One fascinating, romantic, and even educational way to see the historic city of Savannah is from the river on a Savannah riverboat cruise!
There are lots of wonderful ways to soak up the ambience and culture of America's most historic and beautiful city, Savannah, Georgia. Touring historic sites and museums, enjoying shops and galleries, attending one of the many annual events or festivals, dining, dancing – but for a truly unparalleled experience, all visitors should try a Savannah riverboat cruise.
A Savannah riverboat cruise will transport you to a simpler time when such vessels played a major role in the development of our country. Now you can take an unforgettable tour of Savannah on one while also enjoying a meal and entertainment!
Your Savannah riverboat cruise can take many shapes – romantic, exciting, educational, intimate, group, holiday, or any day! Take a look at the options:
Narrated Harbor Sightseeing Cruise – 1.5 hours
Learn about the past, present – and future! – of the river that is the lifeblood of Savannah!
Narrated Harbor Luncheon Cruise – 1.5 hours
A great combination of sightseeing and delicious Southern-style food you'll not soon forget.
Sunday Brunch Cruise – 1.5 hours
Feast upon an elaborate brunch buffet of your favorite breakfast and lunch entrees while hearing fascinating facts and tales of Savannah and her thriving port's past.
Dinner Entertainment Cruise – 2 hours
A popular cruise that includes dining, live entertainment, and dancing.
Sunset Cruise – 2 hours
Refreshing evening breezes, jaw-dropping sunsets, food, drink, live music and dancing from the vantage of an open-air, top deck patio.
Monday Gospel Dinner Cruise – 2 hours
Soothe your soul with the uplifting sounds of Southern gospel music as you enjoy savory flavors of the South.
Moonlight Riverboat Cruise – 1.5 hours
Dance the night away under the stars with light food and drinks from the cash bar.
The River Street Riverboat Company also puts together a number of special cruises throughout the year, such as the Gullah Heritage Dinner Entertainment Cruise, Wildlife Refuge Sightseeing and/or Lunch Cruise, Halloween Moonlight Cruise, Holiday Lunch Cruise, Sailing With Santa Cruise, Holiday Boat Parade of Lights Cruise, and the Holiday Gospel Dinner Cruise.
You can even enjoy a Savannah riverboat cruise on most major holidays: Valentine's Day, Easter Sunday, Mother's Day, Father's Day, 4th of July, Halloween, Thanksgiving Day, Christmas Eve, and New Year's Eve.
Savannah Riverboat Cruise
River Street Riverboat Company
9 East River St, Savannah, GA 31412
For a full schedule, ticket process, and other details, be sure to visit: www.savannahriverboat.com
Savannah Lodging
Treat yourself to some of the most unique and beautiful lodging in the city with a stay at the historic McMillan Inn. Let us show you some true Southern hospitality with our luxurious amenities, opulent accommodations, and delicious breakfasts – and all from within Savannah's Landmark Historic District.