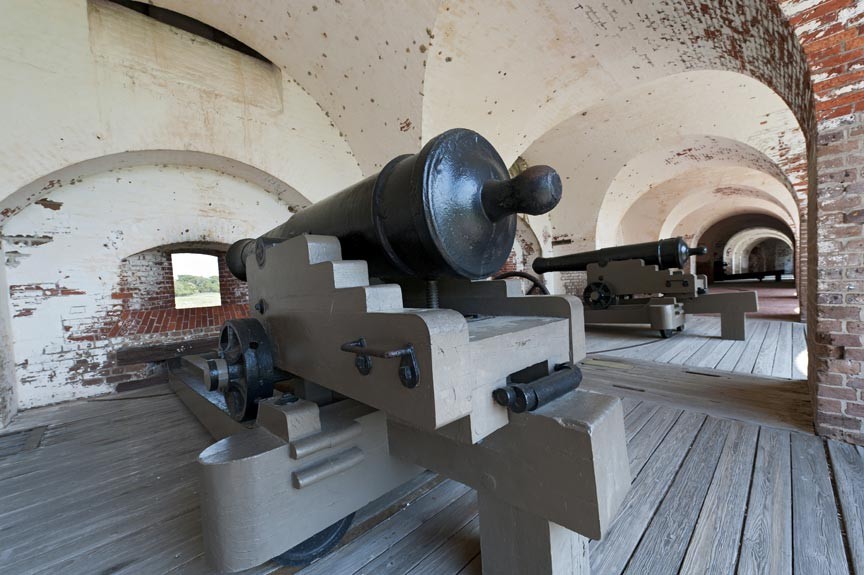 History buffs and outdoor fans alike will enjoy a visit to Fort Pulaski National Monument, a site rich in history as well as opportunities for outdoor recreation.
Georgia's Fort Pulaski, preserved for your discovery at Fort Pulaski National Monument on Cockspur Island between Savannah and Tybee Island, was completed in 1847 after eighteen years of construction, as part of the coastal fortifications ordered by President James Madison after the War of 1812.
With 11 foot thick walls built upon wooden pilings driven up to 70 feet deep in Cockspur Island mud, Fort Pulaski seemed well nigh impenetrable except by the largest land-based artillery, none of which could get within range of the island defense. Less than 15 years later, Fort Pulaski was given the chance to serve when civil war broke out between the North and South.
Early on in the conflict, April 1862, Fort Pulaski's defenses were tested by the new, rifled cannon of the Union Army, which could be fired more accurately and from much farther away than the smooth-bore canon the fort was built to withstand. In just under 30 hours of bombardment, the once hardy walls were penetrated and the fort surrendered, a battle that spelled the obsolescence of Fort Pulaski and all other brick fortifications, thereafter.
Since that fateful day, Fort Pulaski has served as both a public park and a WWII naval emplacement. It was declared a National Monument in 1924, listed on the National Register of Historic Places in 1966, and added a museum in the 1980s.
Fort Pulaski has appeared in popular film, as well, with supporting roles in both Robert Redford's "The Conspirator," about the conspiracy behind assassination of President Abraham Lincoln, and 2012's less historically accurate "Abraham Lincoln vs. Zombies".
Beyond the museum and the fortifications themselves, Fort Pulaski National Monument is perfect for sight­seeing, hiking the many trails, bicycling, nature study, nature pho­tography, and kayaking.
Throughout 2016, Fort Pulaski will be hosting its Centennial Series of special events every third Sunday of the month, including:
June 19 – Bark in the Park
July 17 – Fishing with a Ranger
August 21 – Wetlands Walk
September 18 – Kayaking with a Ranger
October 16 – Full Moon Hike
November 20 – Oystering along the Savannah
December 18 – Historic District Walk
Fort Pulaski National Monument
U.S. 80, Savannah, GA
open daily from 9am to 5pm
closed Thanksgiving Day, Christmas Day, and New Year's Day
For more information: nps.gov/fopu
Fort Pulaski Lodging
Make your Savannah getaway the very best it can be with the luxurious accommodations of McMillan Inn! McMillan Inn offers modern amenities merged with classic style in the Landmark Historic District of Savannah – a perfect choice whether you're staying for the week or just the night. Book your stay, now!