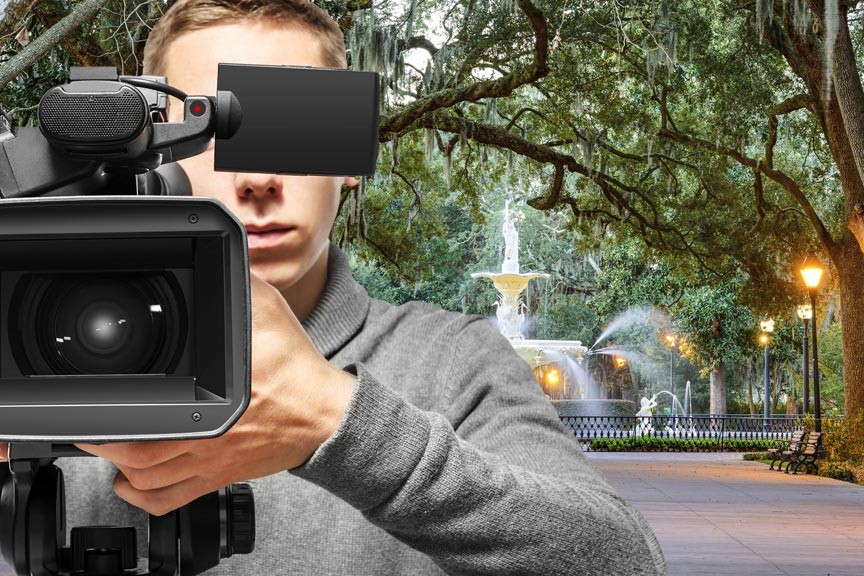 It's exciting and easy to tour Savannah movie locations because so many films, big and small, have been shot here!
Savannah is known for its rich history and lush beauty – not just by tourists and locals but by film studios, too. The historic city has been in many films, both as a setting and a character. From Forrest Gump to Midnight in the Garden of Good and Evil, there are many places in Savannah that are familiar to movie buffs.
If you want to tour Savannah movie locations, many local companies offer tours. With maps online of famous Savannah film locations, you can easily find many of the more prominent locations on your own for a self-directed tour.
With just that in mind, below is a short list of some of the more iconic and easy to find film locations around Savannah.
Tour Savannah Movie Locations
The Last Song, 2010
Many locations around Savannah were used in the film starring Miley Cyrus and Liam Hemsworth but Tybee Wedding Chapel remains the most popular of them all. The chapel was built for the film, then moved after filming.
Midnight in the Garden of Good and Evil, 1997
Events in Savannah's Mercer-Williams House are the focus of John Berent's best selling non-fiction book. The film, starring John Cusack and Kevin Spacey, was shot mostly on location. The Mercer-Williams House remains open and is worth a visit whether or you're familiar with the book or movie.
Something to Talk About, 1995
Six Pence Pub on Bull Street was the setting for an iconic scene between Dennis Quaid and the nightgown-clad Julia Roberts in this popular 80's film. Other exterior scenes were shot on Johnson Square.
Forrest Gump, 1994
Chippewa Square is where Tom Hanks sat as Forrest Gump, eating his box of chocolates. The bench, however, was a prop and is now in the Savannah History Museum. Forrest Gump won six academy awards and made Savannah's Chippewa Square a star in it's own right!
Glory, 1989
Many scenes from this Oscar winning film, starring Denzel Washington, Matthew Broderick, and Morgan Freeman, were shot in Savannah. The Mercer-Williams House, the beach at Jekyll Island, and especially the Roundhouse Complex at the Georgia State Railroad Museum are all featured.
This is just a short list of some of the more popular settings people tour Savannah movie locations to see. A great many other television and feature films were shot here, as well. The list includes Magic Mike XXL, The Legend of Bagger Vance, The Longest Yard, and 1962's Cape Fear.
Savannah Lodging
Make the most of your Savannah vacation with accommodations at McMillan Inn. McMillan Inn is located in Savannah's downtown historic district. When you stay with us, most of what brought you to Savannah is located just outside your door. Elegance, service, and Victorian charm are yours when you stay at McMillan Inn.