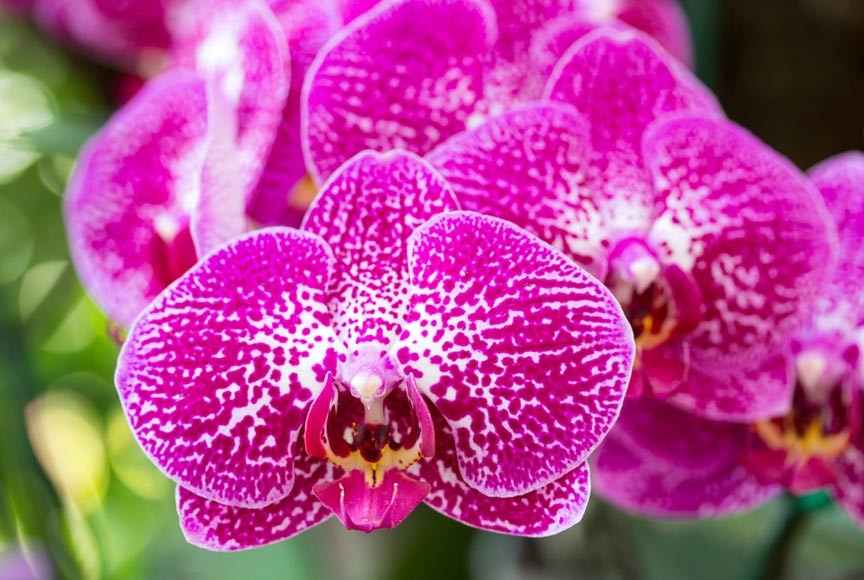 Come one come all to the 2017 Savannah Orchid Show, April 28th, 29th, and 30th, 2017 at the Coastal Georgia Botanical Gardens.
The 31st annual Savannah Orchid Show returns to the Coastal Georgia Botanical Gardens in just a few weeks. Local and regional orchid-growers will display their entries for the American Orchid Society judges but the real winners will be all who attend.
The orchid family has greater flower variety than any other. The official number of documented orchid species is over 25,000! While you might not see that many different orchids at the Savannah Orchid Show, it presents an unparalleled opportunity to see a great variety of orchids in all their colorful perfection.
The Savannah Orchid Show is held in the Coastal Georgia Botanical Gardens' Andrews Visitor Center and, consequently, is considered the Southeast's best-venued flower show. Once you see the Andrews Visitor Center's great hall and terrace bedecked in orchids, we think you'll agree.
Admission to the Savannah Orchid Show presents you with hundreds of orchids being judged for their form, color, and perfection. Orchid Societies from Georgia and the Carolinas will be coming to Savannah with their own entries for the show. Peruse the spectacular entrants and admire the winners. Judging is scheduled to occur on Friday morning before the show opening at noon.
The Savannah Orchid Show is more than just a competition. Vendors from across the Southeast will also be on hand on the terrace with live orchid plants, growing supplies, accessories, and lots of advice. The show also includes a re-potting booth so, by all means, do bring in your own orchid for a healthy re-potting.
Whatever you do, don't miss the orchid greenhouse maintained by the Deep South Orchid Society!
Spring is an ideal time to visit Savannah and, weather-wise, April might be the best month to visit Savannah. The month is more predictably warm than March, with average highs in the upper 70's, plus you'll dodge the St. Patrick's Day crush. Aprils is usually warm enough for outdoor activities without being too hot.
So go ahead: come to Savannah for the Savannah Orchid Show! Tour the gardens, ogle the amazing orchids, and enjoy spring-time Savannah!
2017 Savannah Orchid Show
April 28th through the 30th, 2017
April 28 – 12 pm to 7 pm | April 29 – 10 am to 6 pm | April 30 – 10 am to 5 pm
Coastal Georgia Botanical Gardens' Andrews Visitor Center
2 Canebrake Road, Savannah, GA
For more information, visit www.coastalgeorgiabg.org or follow the show on Facebook.
Savannah Orchid Show Lodging
McMillan Inn is an 1888, Italianate Revival Inn with twelve opulent rooms and a Carriage House to choose from. The luxurious amenities, personalized services, and elegant, historic surroundings of our Savannah B&B will transport you to comfort and relaxation. Our convenient location in Savannah's Landmark Historic District puts all of the city's most popular attractions at your fingertips. Book your stay at McMillan Inn today!