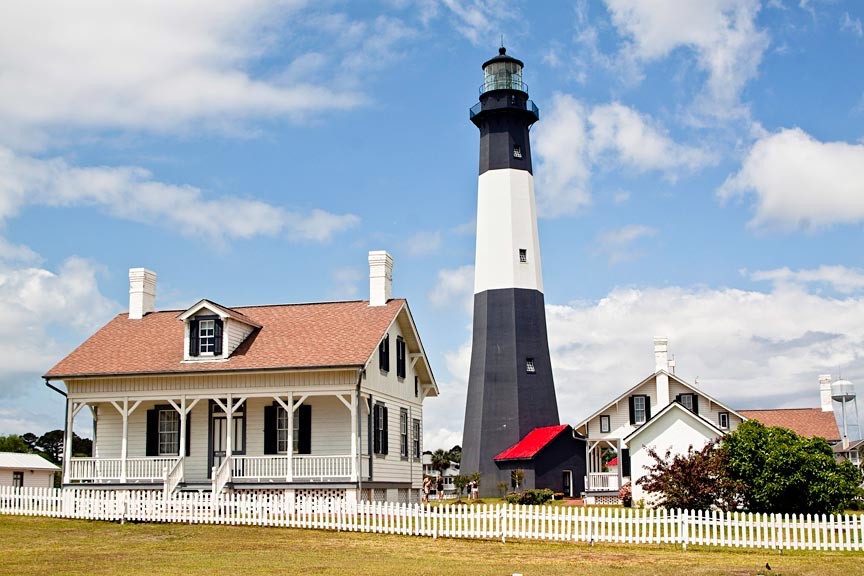 Come to Savannah and discover Georgia's oldest and tallest lighthouse, one of only seven surviving colonial-era lighthouses in the country. Tybee Island Lighthouse has guarded the mouth of the Savannah River in one form or another since 1736.
Tybee Island Lighthouse has a storied history, to say the least. It made its first appearance when Georgia was still just a colony, not a state. This first incarnation was just a 90-foot tall day marker constructed of wood and brick- no light. A stark contrast to the 145-foot tall, black and white tower we know today.
The iconic Tybee Island Light has gone through a number of shapes, sizes and locations. It has seen America struggle through both the Revolution and Civil War. The iconic and historic tower has suffered at the hands of Confederate troops and high seas. Through it all, the tower has persevered, bouncing back time and again, bigger, stronger, better and still guiding ships safely to and from the mouth of the Savannah River.
While Tybee Lighthouse is still a functioning, navigational aid, it is also an operating museum! Visitors to Tybee Island Lighthouse will be thrilled to discover options for self-guided tours, special evening tours, and both a museum and gift shop.
Tybee Island Lighthouse Christmas
The Tybee Island Historical Society hosts a special events at the lighthouse throughout the year. Over the holidays, they provide an opportunity to step back in time to a 1930s and '40s era Lighthouse Keeper Christmas. Experience what it must have been like in those simpler times with the sights and customs of that quaint and distant Christmas. Best of all, a climb up the tower will reveal he stunning vista of Tybee Island's collective Christmas lights. Caroling, candlelight, and delicious hot cider round out this special event.
December 2nd, 9th, and 16th, 6:30pm, 7:30pm, and 8:30pm.
You don't have to wait for Christmas to visit Tybee Island Lighthouse, however. It's open year 'round, 9am to 5pm, and 6 days a week (closed Tuesdays). Don't miss the opportunity to visit this amazing and iconic piece of US history when you're in the Savannah area.
Tybee Island Lighthouse
30 Meddin Ave, Tybee Island GA 31328-9733
For more information, directions, and schedules, please visit www.tybeelighthouse.org.
Tybee Island Lighthouse Lodging
McMillan Inn is less than 30 minutes away from Tybee Island. In fact, our convenient location in Savannah's downtown historic district means you'll be just minutes away from all the best of Savannah has to offer. Theater, dining, shopping, history and more – plus our own plush guest rooms and top-tier amenities. Make your Savannah vacation complete with accommodations at McMillan Inn!