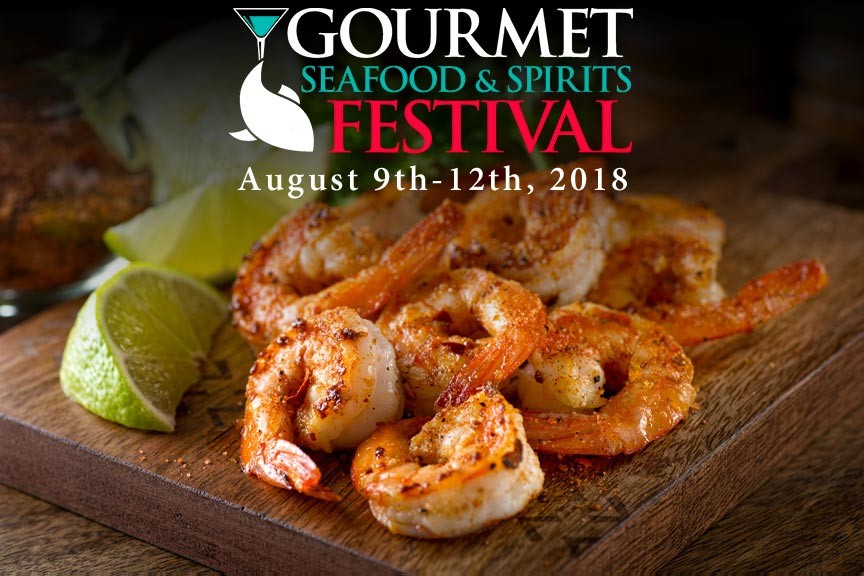 Come out for the 5th annual Savannah Gourmet Seafood & Spirits Festival and enjoy four days of dazzling seafood and spirit events overlooking historic downtown Savannah. August 9th through the 12th, 2018.
Savannah's Gourmet Seafood & Spirits Festival has become one of the region's most celebrated summer food events. Chefs and gourmands are drawn from across the country to Savannah's Hutchinson Island for four days of spectacular food, drink, and fun. Enjoy the spectacle of celebrated chefs and mixologists competing with their very best culinary creations – and you're the winner!
Last year's Gourmet Seafood & Spirits Festival saw well over 1,000 attendees, and this year is expected to be even bigger. Events like the Coastal Chefs Table and the AquaCurean Challenge are especially popular. Sweeping vistas of the Savannah River and historic downtown Savannah only add to the appeal.
2018 Gourmet Seafood & Spirits Festival Schedule
Coastal Chef's Table – August 9, 5:30pm to 8:30pm
A seated, 5-course, premier dinner with paired wines, cocktails, and spirits. The meal will be prepared by a team of Westin chefs partnered with guest chefs from high-end, lowcountry eateries. Guests will enjoy chef interactions, and a live feed of the kitchen preparations.
The Lowcountry Picnic and Concert – August 10, 6:30pm to 9pm
A river-side evening of live entertainment and excellent lowcountry seafood. Music to be provided by the Zac Brown tribute band, 20 Ride.
AquaCurean Challenge – August 11, 2pm to 5pm
The AquaCurean Challenge sees restaurants and bartenders competing against each other with their favorite seafood and cocktail recipes. Guests taste and vote on their favorites.. An exciting, delicious, and fun evening for all!
Fresh Catch & Cocktails Jazz Brunch – August 12, 12:30pm to -3:30pm
Close out the Savannah Gourmet Seafood & Spirits Festival with cocktails, shrimp tails, and clean, fresh jazz! Perks include a bloody mary bar, champagne, seafood, a breakfast buffet, and a very special AquaCurean gift. Music by Jeremy Davis and the Fabulous Equinox Orchestra.
2018 Savannah Gourmet Seafood & Spirits Festival
August 9, 10, 11, & 12
Learn more and purchase your tickets at: www.gourmetseafoodandspiritsfestival.com.
Savannah Lodging
McMillan Inn, a lovingly restored, 1888 Italianate Revival Inn, merges modern amenities with classic style for the best in Savannah hospitality. Enjoy the food, drink, and fun of the festival on Hutchinson Island, then come back to the comfort of our opulent and historic Savannah inn. Book your stay at McMillan Inn today!