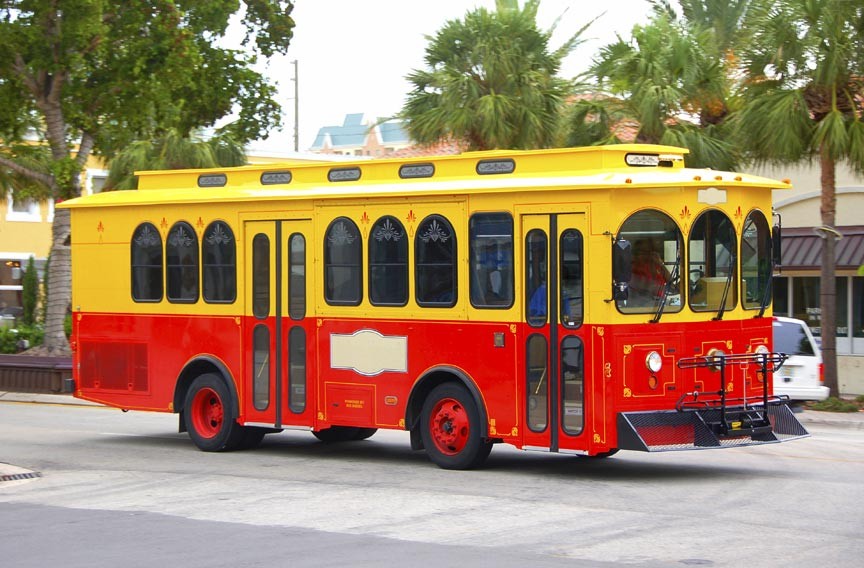 There are lots of great ways to get out and Georgia's oldest city – but one of the most popular has to be Savannah trolley tours!
There are a number of ways to see the sights in Savannah. You can drive, bike, or even walk around on self-guided tours of the city. You can also take advantage of any of the number of guided tour services offered, as well. There are Segway tours, river cruises, bike tours, and more.
Savannah trolley tours are popular with many because, unlike a Segway, boarding a trolley can often feel like stepping into the past.
Once upon a time, trolleys and streetcars were the main form of mass transit. With the introduction of larger, more efficient vehicles, however trolleys have mostly become a thing of the past. Consequently, touring a historic city in a an equally historic form of transportation only adds to the experience.
Another plus to touring Savannah by trolley is that most allow for hop-on/hop-off touring. Trolleys tend to run set circuits around the city, just like a bus. Hop on/Hop off allows you to get off the trolley you're on and catch another when you're ready. Convenient and customizable touring!
Savannah Trolley Tours
Old Savannah Tours
Old Savannah Tours not only show you the city, they do so with lively actors who help bring Savannah's history to life. Old Savannah Tours offers a variety of tours, including the Savannah Experience, a Girl Scout Tour, and even a Ghost Tour. Old Savannah Tours is consistently voted Savannah's Best Trolley Tour.
Visit www.oldsavannahtours.com to learn more.
Savannah For Morons – The Trolley Tour
Looking for a laugh and a tour? The Moron Twins have your back with this historical and hysterical 90 minute tour of Savannah. A high-energy, whirlwind roasting nearly 300 years of Savannah through skits, jokes, and musical numbers. Great fun – but possibly not suitable for those 13 and under.
Learn more at savannahgrayline.us.
Old Town Trolley Tours
Old Town Trolley offers one and two-day trolley tours of Savannah. They also offer a night time "Ghosts and Gravestones Frightseeing" tour. Spooky fun!
Learn more at www.trolleytours.com.
Savannah Lodging
No matter how you get around Savannah during your vacation, you're going to want somewhere to call home. McMillan Inn, located downtown in Savannah's Historic District, is the perfect choice for your Savannah getaway. Choose from among twelve plush guestrooms and our Carriage House then get set for unrivaled elegance, service, and relaxation. Book your stay today at McMillan Inn!