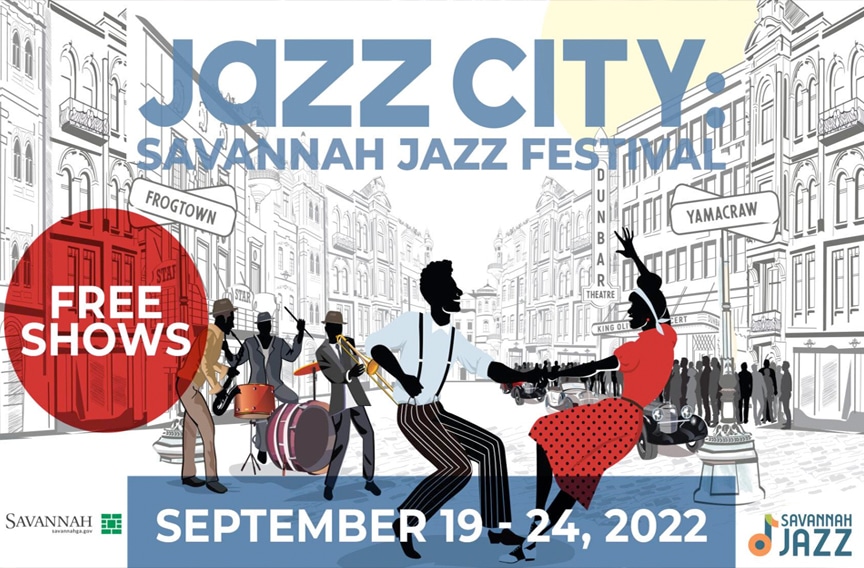 Savannah Jazz Festival 2022 is just around the corner with 4 days of live performances by some of the world's best jazz players. September 20th through the 24th at various venues around historic, downtown Savannah.
Jazz is America's only true art form, created hundreds of years ago by enslaved black people as a way to help preserve their culture and pass the time. While the evil days of American slavery have passed, jazz has grown and thrived to entrance the world.
This is certainly true of Savannah, which has been home to a variety of important jazz artists over the decades. Music legends like Johnny Mercer, Ben Tucker, Irene Reid, Joe "King" Oliver, and many others.
Savannah's annual jazz festival celebrates this past while also looking to the future. The free, multi-day event sees performances from a variety of local, regional, and even nationally recognized artists.
Jazz Festival 2022 promises nearly 20 concerts around Savannah's downtown historic district, featuring both a Blues Night and a Latin Dance Night. Headliners include Castro Coleman, aka Mr. Sipp, "The Mississippi Blues Child," and drummer and pianist Stephen Gordon with special guest Jason Marsalis. We'll also be treated to the talents of singer Kari Kirkland, young saxophone star Jazmin Ghent, and Grammy-award-winning drummer of "Ranky Tanky," Quentin Baxter.
Concert venues include the Ships of the Sea Maritime Museum, the Good Times Jazz Bar, the Lucas Theatre, and Forsyth Park.
Best of all, our Savannah bed and breakfast, McMillan Inn, is just five minutes from all these locations. Why, historic Forsyth Park is only five minutes away on foot! Consequently, you can get to and from festival events quickly and easily. Potentially without any traffic hassle whatsoever. Now that's convenience!
Savannah Jazz Fest 2022 Schedule
Thursday, September 20
7pm – Latin Dance Night at Ships of the Sea Maritime Museum
Wednesday, September 21
7pm – Teddy Adams Quintet with Cynthia Utterbach at Good Times Jazz Bar and Restaurant
Thursday, September 22
Blues Night at the Lucas Theatre
7pm – Ray Lundy
7:45pm – Eric Culberson
9pm – Mr. Sipp
Friday, September 23
Forsyth Park
5pm – Dr. Demetrius Trio and the Wives
6pm – Jazmine Ghent
7:15pm – Mike Burton Trio
8:30pm – Gino Castillo and the Buena Vista Legacy Band
9:40pm – Huntertones
Saturday, September 24
Forsyth Park
2pm – University of North Florida Jazz Ensemble #1
3:15pm – Savannah Jazz Hall of Fame Band
4:30pm – The Saturn Quartet
5:45pm – Stephen Gordon Quartet with Jason Marsalis
7pm – U.S. Navy Band Commodores
8:15pm – Quentin Baxter Quartet
9:30pm – Kari Kirkland with The Savannah Jazz Orchestra
Visit savannahjazz.org for tickets and more information. You can also follow the festival on Facebook.