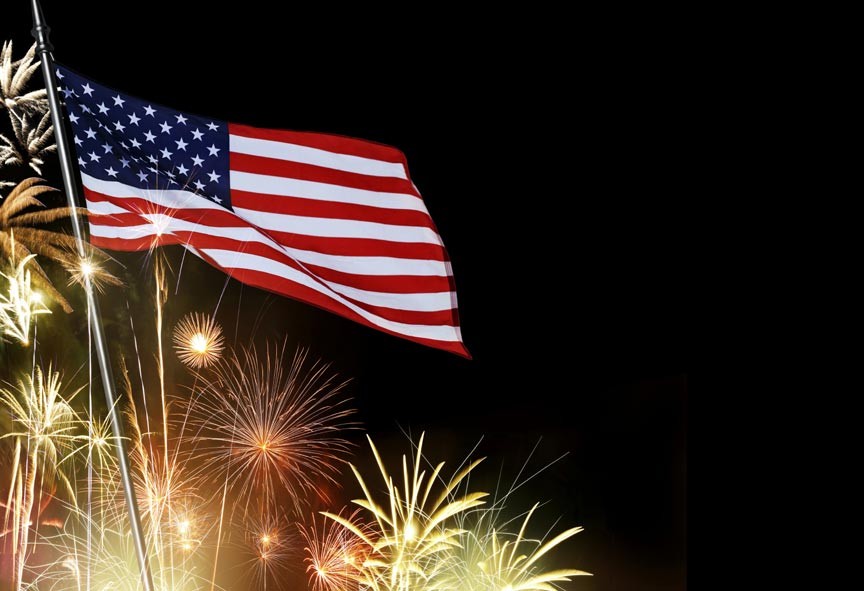 There's always something to do here but – during a Savannah 4th of July? There's so much going on it can be hard to choose!
Savannah is one of America's most historic cities and, as such, goes all out on patriotic holidays like Independence Day. There can be an overwhelming number of things going on. While many of the smaller and lesser known attractions are also worthy of attention, there's a reason why certain events attract more people – here's our short list of the biggest attractions on a Savannah 4th of July.
Independence Day gets an early start with Tybee Island Fireworks
Nothing says Independence Day quite like seeing Tybee Island's Fireworks on the Beach. Luckily, Tybee Island's celebration of America's Birthday occurs on July 3rd at 9:15pm, meaning those who make the island's celebration can celebrate a Savannah 4th of July twice! This free fireworks show can be enjoyed from the Tybee Island Pier and Pavilion or anywhere on the eastern side of island – but try to make the beach if you can.
Exceedingly popular, 4th of July may be Tybee Island's busiest day so, if you plan on attending, be sure to head out early in the day if you hope to stake out a good spot for viewing the fireworks.
It's 3 days of Independence Day celebrations at Savannah's River Street!
Savannah's River Street, its century old buildings packed with boutiques, galleries, restaurants, and night clubs is always abuzz with some event or attraction. Is it any wonder that the Fourth becomes a three day weekend here?
The festivities begin Friday at 4pm and don't truly stop until Sunday at 5pm. Enjoy live music and entertainment, special sales and events, one-of-a-kind handmade goods for sale at artisan booths, and – of course! – Fireworks choreographed to a music at 9:20pm on the 4th of July!
Enjoy a Savannah 4th of July with a River Cruise!
Savannah Riverboat Cruises are a great way to see Savannah's riverfront – and on Independence Day? Seeing those fireworks out over the river while you're on it, River Street and the rest of Savannah sparkling below … just, wow.
Savannah Riverboat Cruises offers three different cruise options for 4th of July:
The July 4th Elite Captain's Suite Cruise is a 3-hour cruise that includes a private Captain's reception with hors d' oeuvres and a premium hosted bar throughout the night in the private 3rd deck Captain's Suite plus a plated 4 course gourmet dinner!
The 4th of July Dinner & Fireworks Cruise is another 3-hour Independence Day cruise that includes a dinner buffet, live entertainment and drink specials to accompany the River Street fireworks.
Savannah Riverboat Cruises' 90 minute Fourth of July Fireworks Cruise includes a cash bar, snack bar, and a DJ spinning lively tunes for your dancing pleasure before the Waterfront Fireworks display.
Visit www.savannahriverboat.com for more information and tickets.
Savannah 4th of July Lodging
McMillan Inn's 1888, Italianate Revival mansion has twelve rooms and a Carriage House to choose from – all conveniently located in Savannah's Landmark Historic District, which puts you within minutes of Savannah's most popular destinations. Whether you're here to celebrate America's birthday or just a relaxing Savannah vacation, we look forward to sharing the incomparably lush comforts of our Savannah inn with you!