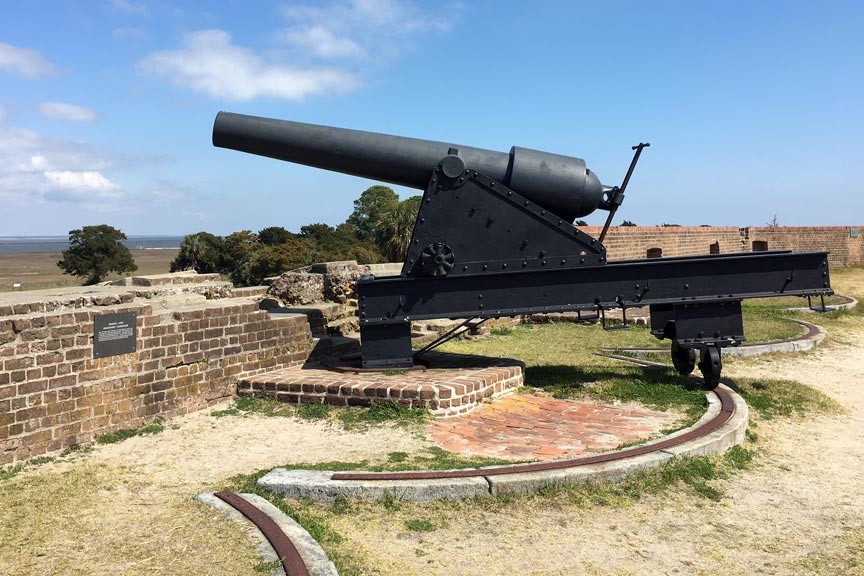 Fort Pulaski National Monument offers both a doorway to America's Civil War past as well as a variety of fascinating nature trails.
Construction on Fort Pulaski began in the early 1820's as protection for the Port of Savannah..  It is located on Cockspur Island, at the mouth of the Savannah River.
The imposing, five-sided, masonry battlement has massive, 7.5 foot thick walls. Completed in 1847, Fort Pulaski was a state of the art fortification with space for up to 146 cannons.
Military art was about to change, however, and Fort Pulaski was to be its proving ground.
In November of 1861, the fort, occupied by Confederate soldiers, came under fire of a new weapon: the rifled cannon. Prior, those inside Fort Pulaski's incredibly thick walls could shrug off mere cannon fire. A steady bombardment from the Union's new rifled cannons, however, punched two thirty-foot holes in the Fort's defenses.
This defeat changed the course of the war … along with conventional thinking on fortifications!
Visiting Fort Pulaski National Monument
Fort Pulaski is one of the best preserved forts of its time. It was designated a national monument in 1924 and annually welcomes around 400,000 visitors a year.
Visitors can take a guided tour to learn about life at the fort, its construction, and the 1862 Battle for Fort Pulaski. The Visitor Center and Museum contains fascinating exhibits. You can also watch the 20 minute "Battle for Fort Pulaski" film, shown daily, on the hour and half-hour, 9:30am to 4:30pm.
The park also includes a number of nature trails for hiking and biking. Some of the trails lead to the fort's original construction village and dike system. Others provide stunning views of views of the Savannah River and Cockspur Island Lighthouse.
Fort Pulaski National Monument
U.S. 80, Savannah, GA
Open daily from 9am to 5pm – Closed Thanksgiving Day, Christmas Day, and New Year's Day.
Visit nps.gov/fopu for more information.
Savannah Lodging
Make your Savannah getaway the very best it can be with luxurious accommodations at McMillan Inn! McMillan Inn offers modern amenities merged with classic style in the downtown Historic District of Savannah – a perfect choice whether you're staying for the week or just the night. Book your stay, today!