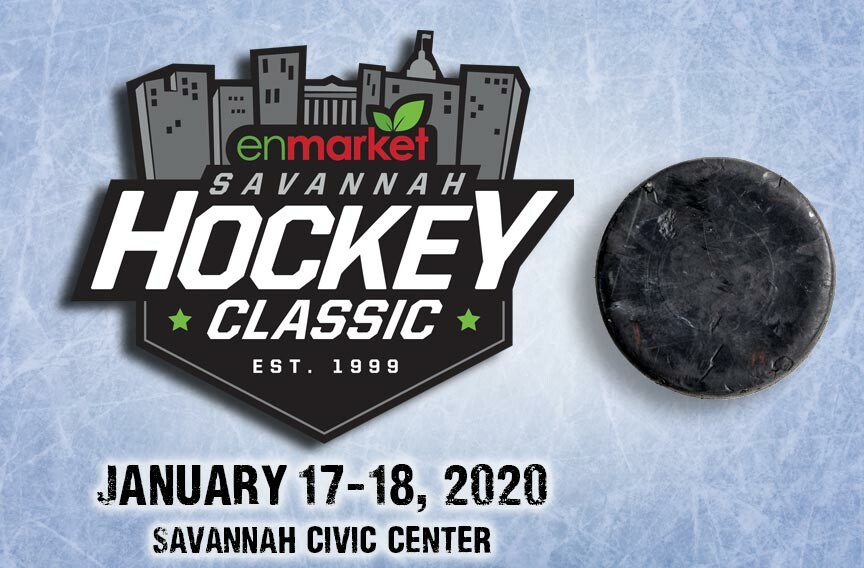 Get ready for Savannah Hockey Classic 2020, the hottest collegiate hockey tournament in the South. The Battle for the Thrasher Cup features the University of Georgia, University of Florida, Georgia Tech, and Florida State. January 17th and 18th, 2020 at the Savannah Civic Center.
There's no better way to break in the New Year than with an exciting college hockey series here in Savannah, GA. Seeing the FSU Seminoles, UGA Ice Dawgs, Georgia Tech Yellow Jackets, and the UF Gators clash on the ice is always a good time. This year should prove no different.
The popular annual event draws crowds of more than 5,000 rabid hockey fans each year – and why not? These are amazing teams populated by up and coming players whose passion for the sport is undeniable. Come cheer yourself hoarse during the on-ice spotlight introductions, and be sure not to miss the player autograph sessions.
This year's championship continues what is now 21 years of Rumbles in the Rink. Both UGA and Georgia Tech have dominated equally over the years, winning 16 of the 21 championships thus far. Who will come out on top for 2020? That's the question.
2020 Savannah Hockey Classic Schedule
Friday, January 17
6pm – FSU Seminoles vs GT Yellow Jackets
8:30pm – UF Gators vs UGA Ice Dawgs
Saturday, January 18
5:30pm – FSU Seminoles vs UF Gators
8:30pm – GT Yellow Jackets vs UGA Ice Dawgs
The Savannah Hockey Classic is held at the Savannah Civic Center, located at 301 W Oglethorpe Avenue. This is just a mile from our Savannah bed and breakfast, McMillan Inn. In fact, our location downtown in Savannah's historic district means you'll be within easy distance of most of what brought you here in the first place. Take a look and see if we aren't just the kind of accommodations you've been dreaming of!
Tickets and more information about Savannah Hockey Classic 2020 can be found here. You can also follow this event on Facebook.