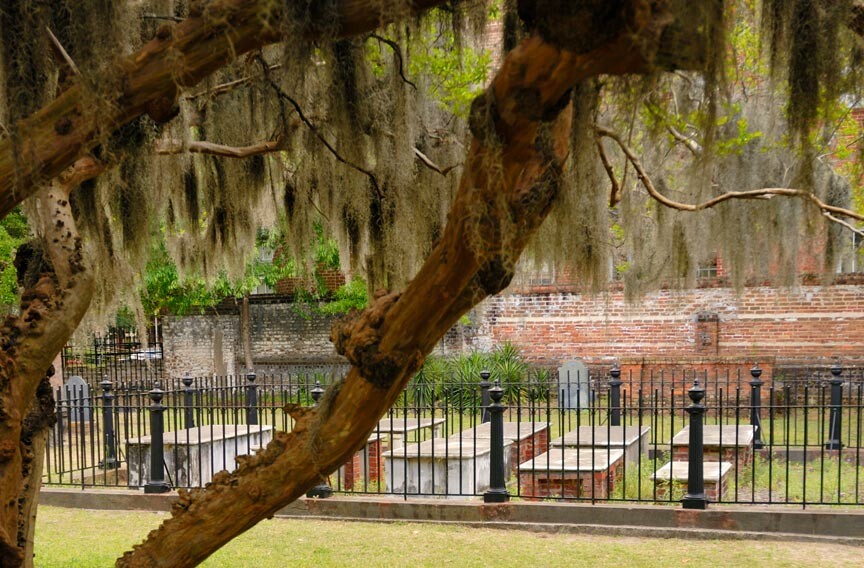 Savannah's Colonial Park Cemetery was established in 1750, when Savannah was still the capital of the British Province of Georgia. The historic grounds served as the city cemetery for more than 100 years, and contain over nine thousand, pre-Civil War graves.
Everyone knows about famous Bonaventure Cemetery, with its draping Spanish moss and historic and beautiful stone memorials. But Bonaventure is not Savannah's only historic and fascinating cemetery.
While Boneventure was developing as a small family plot, the Colonial Park Cemetery was already in public use. In fact, it's the oldest intact municipal cemetery in Savannah.
The cemetery has had a number of different titles over the years: Old Cemetery, Old Brick Graveyard, South Broad Street Cemetery, and Christ Church Cemetery. Most locals just call it the Colonial Cemetery.
In 1896, 43 years after the last burial, the grounds were repurposed as a city park.
Visiting the Cemetery
The Colonial Cemetery started off as a burial ground for the Christ Church Parish. Interments expanded to accepting people of of all denominations in 1789. From 1740 until 1877, the cemetery also served as Savannah's dueling grounds. That seems almost too convenient!
As Savannah's primary public cemetery from 1750 to 1853, there are lots of notable historic markers to see.
Like whom?
Button Gwinnett, a signer of the Declaration of Independence is here. So, too, is Georgia governor and Revolutionary soldier Samuel Elbert. James Habersham, acting royal governor of the Province of Georgia from 1771 to 1772, is also here, along with his two accomplished sons, John and Joseph Habersham. Continental Army major general, Lachlan McIntosh, can be found here, too.
A mass grave of some 700 victims of Savannah's 1820 yellow fever epidemic are also located here. Some say the actual count was 666 but that they rounded up the number to avoid any "evil" connotations.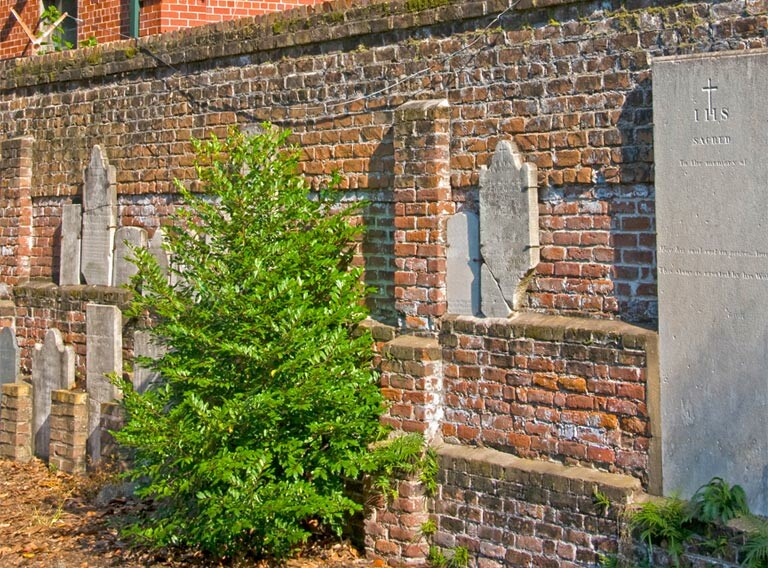 Civil War and the Colonial Cemetery
As the last burial occurred in 1853, eight years before the Civil War, you'll find no Confederate or Union soldiers here, famous or otherwise. That doesn't mean the cemetery is bereft of Civil War history, however!
When Union troops occupied Savannah in December 1864, the graveyard served as bivouac for hundreds of Union soldiers. According to local lore, these soldiers did more than camp. Soldiers displaced and defaced several stone markers.
You can see many of the altered and damaged headstones during your visit along the cemetery's east wall. While it is fun to blame General Sherman's troops for the damage, the simple fact is that many vandals have visited the cemetery over the centuries. This is not to mention the many graves moved during early Savannah's various epidemics.
Colonial Park Cemetery
The cemetery is located at 200 Abercorn Street, Savannah, GA 31401 and open to visitors from 8am to 8pm March through November, 8am to 5pm, November to March.
The cemetery's park-like 6 acres and fascinating historic markers attract visitors all year-round. Best of all, it's less than a mile from our Savannah bed and breakfast, McMillan Inn.
Stroll, drive, or enjoy a trolley ride from our door to the cemetery without leaving Savannah's lovely downtown historic district.
Learn more and view a map of the grounds at the cemetery website.